This Scarily Accurate Comic Predicted Apple's iPad Pro Release 3 Years Ago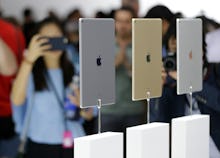 When Apple rolled out a giant, $800 iPad Pro with a foldable cloth keyboard and a stylus on Wednesday — a tablet so powerful it could be a laptop killer — the crowd roared and cheered.
The rest of the Internet thought: Wait, where have I seen that before? 
Oh, right, it looks just like a Microsoft Surface.
Amazingly, the iPad Pro release was predicted in a scarily accurate cartoon by independent comic artist Joel Watson — three years ago. In 2012, he somehow knew that 2015 would be the year Tim Cook finally "changed the world" by mimicking what Microsoft has been doing for years.
Apple borrows concepts all the time: This isn't the first occasion in which Apple has created original software or hardware based on its competitors' technology, then released it to fanfare and massive sales. Apple is terrific at using the ideas of its rivals like Lego bricks to build industry-changing products. Historically, the Apple version becomes more popular because it's simpler, prettier and more user-friendly. 
Thanks to its competition in the smartphone market, Apple has been playing catch-up with companies that used to be years behind. When the iPhone launched, the top-to-bottom screen with no keyboard and single home button set the standard for how smartphones would develop over the next decade.
But now, iPhone screens are growing in size to catch up with competitors' phablets, and Apple is making design compromises it was once staunchly against. For example, the new iPad Pro will also allow for the use of a $99 stylus Apple is calling the Apple Pencil, which responds to how firmly you press it down on the screen.
Steve Jobs, of course, famously said in 2010 that "if you see a stylus" on a tablet, "they blew it." 
But the market for tablets has changed rapidly in the past five years. There are more players in the game, with ideas of their own about what the future looks like. And in the future of tablet design, it turns out Microsoft led the way.