Apple's iPad Pro, Apple Pencil Reveal at Keynote Event Spawned the Greatest Memes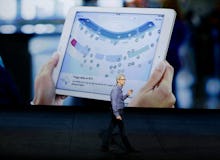 All eyes in the tech world were on the Bill Graham Civic Auditorium in San Francisco on Wednesday for Apple's big product unveiling, however not every announcement elicited awe from eager consumers. Some tech fans responded to the keynote event with various memes poking fun at its latest products, most notably its iPad Pro and Apple Pencil. 
They found the size of the company's iPad Pro, the latest in the iPad tablet line, amusing. The latest iPad measures 12.9 inches on its diagonal, making it considerably larger than its predecessors. 
Here's how the Internet responded:  
Alongside the iPad Pro, many Apple loyalists took issue with the Apple Pencil, which many pointed out was something Apple's late cofounder and CEO Steve Jobs was on the record as being fervently against. 
Nick Statt of the Verge reports the audience "laughed in unison" when Apple senior vice president of worldwide marketing Phil Schiller announced the device. "On the surface, it was because it played into the stereotype that Apple lays claim to everyday inspirations," Statt wrote. 
Social media users pounced on the Pencil for feeling like a product from the past: 
Apple unveiled several new products coming out of its Cupertino, California, wheelhouse this year. Among the biggest reveals were the iPhone 6S and iPhone 6S Plus, the latest versions of the popular iPhone. 
Coming to the new iPhones, which go on sale Sept. 25, is a 3-D touch feature where users apply various levels of pressure to the phone's screen to navigate the phone's apps. There's also a new Live Photos feature that turns iPhone users' photos into short videos.