Give Lisa Kudrow the Emmy for Nailing How Hollywood Treats Aging Actresses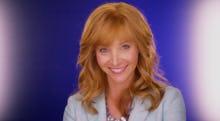 Well, she got it. Lisa Kudrow has earned herself another Emmy nomination for her role as Valerie Cherish on HBO's The Comeback.
In its revival season, the former cult hit was able to take a more focused look at its protagonist. As an aging actress, she's perceived in an unflattering light and dismissed by the men around her. She's desperate for relevance in a world that rejects her for not being young and hot.  
Credit Kudrow: Her depiction of Cherish is honest and clear-cut, so much so that the audience endures the character's numerous ups and downs. It's breathtaking to watch. In exploring how Hollywood treats aging actresses, Kudrow deserves this year's outstanding lead actress in a comedy Emmy award.
The Comeback originally premiered in 2005 but was short-lived, airing just one season about the trials and tribulations of Valerie. The show was cancelled due to poor ratings, but gained a cult following thanks to reruns and DVD release. The show returned for a short (eight episodes) yet well-received follow-up season at the end of last year.
Cherish has been busy since we last saw her, but nothing's really changed. She had a minor stint as a Real Housewife — a franchise arguably influenced by The Comeback's first-season exploration of reality television. She even starred in an "indie horror movie." Thankfully, Valerie remained awkward and endearing. This season not only lived up to the great expectations of both fans and critics, but also managed to exceed them by exploring another side of Valerie Cherish.
Season two featured a grating yet ultimately gratifying narrative for Valerie, who struggles with the dramatic role of Mallory Church in a new HBO series called Seeing Red. The show-within-a-show features a sadistic version of the actress, created by Paulie G, the man she worked with on the first season's show-within-a-show, Room and Bored. Initially, she fumbles and finds it difficult to let her guard down. The season studies Valerie, an actress stuck in the blueprint of a '90s sitcom trying to adapt to the dramatic format, as she's pushed to her breaking point.
It's trying work. She has to act beside naked women, do green-screen work and is even put in the trunk of a car with live snakes. It only gets worse from there: Her marriage to husband Mark falls by the wayside, while her beloved hair-and-makeup guru, Mickey, becomes ill. Yet Valerie is in too deep to notice what's crumbling around her.
She's rewarded for playing a demonic version of herself: Her performance in Seeing Red is critically acclaimed. Valerie even wins an Emmy — but it nearly costs her everything she cherishes.
The depiction of Valerie, by way of Mallory Church, is a strong example of how a woman in Hollywood is seen by the men around her. Mallory is shrill, threatening and painted as the villain. In Valerie's own unraveling, Kudrow plays the character with such precision that she transcends satire and becomes human, flawed and affecting. She's put through the wringer in trying to remain significant, and, in turn, forgets about those around her.
Nominated for playing Cherish during the show's initial run and winning two Emmys during her time on Friends, Kudrow is not unrewarded. Yet it is in her return as Valerie that she is more deserving than ever. Her performance is so memorable because her character is so unique. Her portrayal of an actress trying to stay relevant while losing her personal identity is something few of her peers would veer into. By doing so, she gave a performance that is unparalleled.
For Kudrow, Cherish supersedes any other character in her repertoire. This year's Emmy rightfully belongs to her.
The Comeback is nominated for one Emmy award for outstanding lead actress in a comedy series for Lisa Kudrow. It is available for streaming on HBO Go and HBO Now.