'Pokemon Go' Nintendo Video Game and Smartwatch: Details, Release Date and How to Download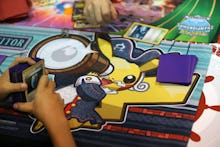 Your favorite childhood game is back, but with an amazingly immersive twist. Coming to smartphones in 2016, Pokémon Go is the newest installment in the popular gaming series. However, unlike its handheld predecessors, this futuristic game will employ the user's own surroundings, offering an interactive reality to battle with and against the magical creatures. 
The game is a joint project between Nintendo and Niantic, the developers of the popular multiplayer smartphone game Ingress, and uses GPS to connect users' surrounding environments to the virtual reality adventure. The best part? The game will be free to download in both the Apple and Google app stores.
Pokémon Go is the first addition to the franchise made available primarily for mobile devices. The developers showed it off, along with a compatible smartwatch that players will use during the game, at a press conference in Tokyo Thursday, the Verge reports.
To coincide with the game's release, Nintendo is creating a smartwatch called Pokémon Go Plus that lets users take the game with them everywhere they go, acting as an on-the-wrist extension of the real-time reality game.
The slim-looking watch will ping users when there is a new Pokémon in the area. Although the download will be free for mobile users, the watch will be sold separately, as will in-app purchases throughout gameplay.
Niantic's massively successful Ingress mobile app was one of the first to assimilate users into an augmented reality by combining gameplay into real life environments. Google ended its relations with Niantic during its massive company-wide transitioning to new projects this year, paving the way for the smaller tech development company to receive funding from Nintendo and other new partners.
If you're still holding onto that Gameboy from the '90s, it may be time to move on. Check out the full trailer for Pokémon Go, available on app stores in 2016, below: