Jennifer Lawrence Has Some Pretty Stellar Advice for People Dealing With Anxiety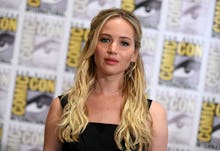 At face value, Jennifer Lawrence's life is pretty awesome: She's beautiful, talented and wealthy and is BFFs with Amy Schumer — the platonic ideal of #FriendshipGoals. But that doesn't mean she finds it easy to constantly be in the public eye. Like many Americans, Lawrence struggles with anxiety — and she's come up with a few ways to cope with it.
"I have a prescription," Lawrence told the New York Times when asked how she manages her anxiety. "I find a certain peace by thinking of 'me in public' as sort of an avatar self. You out there can have the avatar me. I can keep me. And I just try to acknowledge that this scrutiny is stressful, and that anyone would find it stressful.
"So I've got to try to let it go, and try to be myself, and focus on important things, like picking up dog poop."
This isn't the first time Lawrence has opened up about struggling with anxiety. Back in 2013, the brutally frank 25-year-old told the French magazine Madame Figaro that she started grappling with symptoms of anxiety as a preteen, eventually seeing a therapist to help treat the condition.
"When my mother told me about my childhood, she always told me that there was like a light in me, a spark that inspired me constantly," Lawrence told the magazine. "When I started school, the light went out. It was never known what it was, a kind of social anxiety."
She ultimately turned to acting as a form of self-therapy: "I finally found a way [to] open the door to a universe that I understood, that was good for me and made me happy, because I felt capable, whereas before I felt worthless."
Due to the stigma associated with mental illness, people with anxiety rarely speak openly about the disorder. But it's one of the most common disorders in the United States: According to the National Institute of Mental Health, approximately 18% of the adult U.S. population live with ongoing anxiety in some form. Of those who suffer from some form of anxiety, approximately 20% take prescription medication, such as Prozac or Xanax, to treat their symptoms.
But it's also common for people who have anxiety to come up with their own ways of managing symptoms. For Lawrence, compartmentalizing her public and private personae, combined with her general refusal to give any fucks, is a way for her to manage her anxiety. Considering she's now the highest paid actress in Hollywood, it seems to be working well for her.  
By opening up about her own mental health struggles, Lawrence is shining light on a condition that is rarely openly discussed, possibly encouraging fans to also come forward with their own experiences. Her BFF-ship with Schumer notwithstanding, that's possibly the most awesome thing about her.