Marvel's New 'Hulk' Will Be Korean-American — And That's Only Part of Why He's So Awesome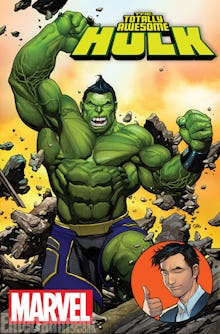 Marvel Comics has introduced a slew of new characters over the past year, but few have elicited more excitement than Amadeus Cho, the company's first Korean-American superhero to be drawn by Korean-American artists.
The move comes at a time when the entertainment giant is investing more vigorously in a racially diverse field of heroes.
According to multiple reports, Cho — a character who has existed in the Marvel universe since 2006 — will assume the mantle of the Hulk, the fury-driven green giant most commonly associated with the alter ego Bruce Banner. The title of Cho's series will be The Totally Awesome Hulk, and the first issue will be released in December.
Perhaps the most significant part of the character's genesis is the creators who will bring him to life. Entertainment Weekly reports that Greg Pak and Frank Cho, a Korean-American creative team, will write and draw the new Hulk, respectively.
"We wanted to do everything we could to underscore that this is a truly historic moment," Marvel Editor-in-Chief Axel Alonso told Mic via email. "Come December, the Marvel universe's most powerful character will be an Asian-American 'boy genius' who will now have the physical power to match his great intellect. And who better than Greg Pak and Frank Cho — two top-tier comics creators — to bring authenticity to Amadeus Cho's journey?"
The inclusion of two artists of color in the creative process also addresses a sticking point for the company. While Marvel has drawn accolades for featuring characters like the Native American hero Red Wolf, Muslim Ms. Marvel Kamala Khan and Asian-American Spider-Man affiliate Cindy Moon in recent months, it still faces criticism around the lack of diversity among its artists. 
In July, Wired published an article claiming that the increasing diversity among Marvel's characters has not been matched by the creators who bring them to life:
"[As] the faces on the pages popular comic books have steadily grown more diverse, the hiring practices of publishers haven't necessarily kept pace. While there are certainly more minority creators earning bylines than there were a decade ago, the editors and creators of mainstream comics remain overwhelmingly Caucasian — a demographic imbalance that has sparked increasingly loud discussions about what diversity really means and where it matters."
Growing racial diversity is also becoming a concern that spans the whole entertainment industry. In film and TV especially, the discussion has been spurred by studies like University of California, Los Angeles's annual Hollywood Diversity Report — which consistently finds that greater racial diversity onscreen translates to higher ratings and box office earnings offscreen.
When it comes to comics, Alonso added, "I think it is very important that people of all types see their reflection in Marvel's heroes, especially kids. When you take a character as iconic as the Hulk, and give him a new face that opens the door for new stories, and new fans, that's a huge thing."
With Cho, the 19-year-old boy genius who is now one of the most iconic characters in all of comics, Marvel aims to do just that.
h/t Colorlines