Target Just Took a Wonderful Step Towards Embracing Body Diversity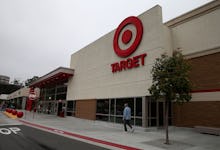 Plus-size mannequins made their debut Thursday at a Target down under, reports Australia's Herald Sun, in what's a big move for the retailer — but really shouldn't be.
"We know how important it is to be accessible for real Australians," Target Australia's managing director Stuart Machin told the Herald Sun. "The real-sized mannequins will take this commitment to diversity one step further, by helping everyday women to accurately see what clothes will look like on themselves and on a body that they can identify with."
It sounds logical, but as Machin said, most retailers still fail to present plus-size clothes on mannequins that come anywhere close to the size of real women's bodies.
"We hope that these mannequins will help to start a new conversation in the fashion industry, and trigger some change," he said.
Change is underway in store windows: Outside of Australia, there has been a small but noteworthy push to make store mannequins more representative of women larger than a size 2 (or even 0). In July, the Guardian reported that U.K.-based retailer Topshop agreed to stop ordering a super-slim mannequin, which they claimed to be a U.K. size 10, but clearly wasn't. 
Responding to a Facebook post by a shopper calling out the mannequin's proportions, Topshop said, "We think it's important to showcase a healthy size image, from the choice of models used in campaigns, to the stories featured online and on the blog... Going forward, we are not placing any further orders on this style of mannequin."
Two years ago, the U.K.-based department store Debenhams gained similar praise for introducing a permanent crop of plus-size mannequins, making them one of the first high-end British stores to do so, according to the Huffington Post. 
Why are all of these mannequins worth it? It's not just a nice overture to curvier women. 
As Jo Swinson, the U.K. government's "equalities minister" and an advocate for body positivity, told the Independent at the time, "Recent research found that women are three times more likely to buy clothes when the fashion models are their size, so I hope more retailers will recognize that meeting customer demand for more diversity makes good business sense."
It's not just the nice thing to do — it's good retail sense to make women feel positive and represented. 
That's why the mannequins make such a difference, and are extending beyond plus-size. Last year, J.C. Penney revealed five new mannequins modeled after "real" people, varying in weight and height, and including a wheelchair-user and veteran with a prosthetic limb. Previously, the company had been slammed with a petition to remove their super-skinny mannequins from their stores, so this was at least one step in the right direction. 
We're hoping more retailers, like Target, will keep heading in that same direction too.