James Blake: NYPD Apologizes for "Inappropriate" Mistaken Identity Arrest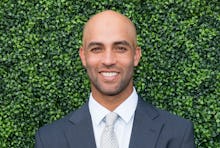 During a Thursday morning press conference, New York Police Commissioner William Bratton said he wants to apologize to former professional tennis player James Blake after an officer body-slammed him to the sidewalk in New York on Wednesday in an apparent case of mistaken identity. 
"I would be very interested to talk with [Blake] to extend my apologies for the incident," Bratton said Thursday, noting his office had repeatedly attempted to contact Blake since the arrest.
Bratton said Blake, whom officers mistook for a suspect in a case involving credit card fraud, was "inappropriately arrested" and that authorities "have determined as a result of the investigation ... that Mr. Blake had no role or involvement in the criminal investigation that we were conducting." 
A New York Police Department officer has been placed on "modified assignment" in connection to Blake's detention, meaning his gun and badge have been removed. Bratton said he supported a decision to place the officer on modified assignment, citing that the officer used an "inappropriate" amount of force in detaining Blake.
Blake, 35, is a now-retired star tennis player who in 2006 was ranked No. 4 in the world, the Associated Press reports. 
On Wednesday, Blake was standing outside the Grand Hyatt New York hotel when a plainclothes NYPD officer charged him. Blake said the officer threw him on the ground and handcuffed him. 
"He picked me up and body slammed me and put me on the ground and told me to turn over and shut my mouth and put the cuffs on me," Blake told Good Morning America on Thursday. "I do think most cops are doing a great job keeping us safe but when you police with reckless abandon, you need to be held accountable." 
"I think I'm going to hopefully let people know that some of them need to be held accountable and these that are doing police work the wrong way need to pay for those actions and be shown either the door or whatever they need to do to punish them," Blake said.