FKA Twigs Performs Sia's "Elastic Heart" on BBC Live Lounge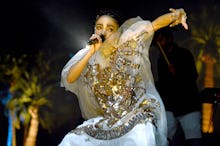 While she may be known for her aggressive fashion choices and being engaged to Robert Pattinson, FKA Twigs has plenty of talent to spare. On BBC Radio 1's Live Lounge Thursday morning, the singer perfectly recreated fellow artist Sia's "Elastic Heart" with FKA Twigs' own unique stylings in a raw performance.
A single dancer performed with the singer during her rendition of the hit single from Sia's 2014 album 1,000 Forms of Fear. 
This isn't FKA Twigs' first time performing for the Live Lounge radio series, which commonly features big name artists covering fellow performers' tunes. Just over a year ago, FKA Twigs covered Sam Smith's "Stay With Me" on the BBC 1 show, which was equally haunting. NME reports Wolf Alice covered One Direction's "Steal My Girl" this week.
FKA Twigs took to social media following the performance to share her exclusive Sia cover with fans:
"I don't believe in angels, but I think I just heard one," BBC radio host Clara Amfo read from a tweet immediately following the live performance. "Just when I thought I was getting a little bit tired of 'Elastic Heart,' FKA Twigs brings new life into it. So intense, amazing." 
Check out FKA Twigs' full performance below: