New York Governor Andrew Cuomo Just Proposed a $15 Statewide Minimum Wage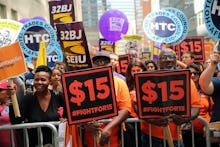 On Thursday, the movement for a $15 minimum wage witnessed what may be the most significant indicator of its wildfire success across the U.S. 
At a press conference in Manhattan, New York Gov. Andrew Cuomo proposed an increase of the minimum wage to $15 an hour for all workers, which would be it the highest statewide wage floor in the nation.
"Fifteen dollars an hour will be the highest statewide rate in the nation, and will herald a new economic contract with America — and it's about time," Cuomo said during the press conference. 
Cuomo shared the stage with Vice President Joe Biden, who offered his support for the pay boost. 
"Raising the minimum wage to $15 an hour will bring fairness to 2.2 million New Yorkers," Cuomo said. "Every working man and woman in the state of New York deserves $15 an hour as a minimum wage, and we're not going to stop until we get it done."
In the past year, $15 minimum wage laws have mainly surfaced in affluent cities. Seattle, Los Angeles and San Francisco have passed laws that mandate a $15 minimum wage, phased in over the course of the next few years.  
Cuomo explained that should a $15 minimum wage be passed for his state, it would also be phased in so as not overwhelm businesses and trigger a higher unemployment rate.
The minimum wage in New York is currently $8.75 an hour, and under current law will increase to $9 by the end of the year. The highest wage floor in the country is in Washington state, which stands at $9.47 an hour:
The background: The state of New York did have one brush with a $15 minimum wage earlier this summer. In July, New York state's wage board approved a proposal that raised minimum wage for fast-food workers across the state to $15 by 2021. During his remarks, Cuomo said the state's Labor Department has officially accepted the recommendation in full, and tens of thousands of fast-food workers across the state can expect to see their wages rise in coming years. But if Cuomo gets his way with his new $15 proposal, that rate would apply to all workers, not just those in the fast-food industry.
The governor's support for a $15 minimum wage stateside is a departure from his stance earlier this year. As the Wall Street Journal reports, when New York City Mayor Bill de Blasio proposed raising New York City's minimum wage to more than $13 per hour, "Cuomo's administration said the state legislature, which must approve any city's move to raise its minimum wage, would regard that as a 'nonstarter.'" Cuomo instead pushed for a $11.50 minimum wage for New York City and a $10.50 floor for the rest of the state in his 2015 budget proposal.
Policy experts say that as long as the phase-in process is conducted carefully, then the wage should be a boon for workers.
"A $15 minimum wage is indeed reasonable and necessary," Robbie Hiltonsmith, senior policy analyst at the think tank Demos, told Mic in an email. "Once implemented, it will be beneficial to both employment and [gross domestic product] growth, as the additional buying power it will give low-wage workers will enable them to increase both consumption and savings, which will help fuel growth." 
So far, progressive advocates in the state have reacted positively.
"Hundreds of thousands of New Yorkers are getting a raise because of what's happening today, and millions more are getting new hope that they could be next in line," Working Families Party New York state director Bill Lipton said in a statement. "If Gov. Cuomo succeeds in raising the minimum wage to $15 statewide, it will be one for the history books."
New York state's senate is controlled by Republicans, who will put up a fight against the high wage. But even if the law doesn't come to pass, Cuomo's pivot toward it after rejecting an even lower wage earlier this year is evidence that the movement for a $15 minimum wage is winning.