'Jessica Jones' on Netflix: Release Date, Cast and Plot for Krysten Ritter's Marvel Series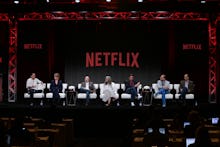 The popular comic book series Jessica Jones is coming back in a major way. Netflix has picked up the Marvel classic and on Nov. 20 will release an entire season of episodes starring Krysten Ritter as the badass female superhero.
Marvel Entertainment released the following trailer in anticipation of the release during a Netflix press conference Thursday morning. "It's time the world knew her name: Jessica Jones," the announcement trailer reads.
The Jessica Jones comic series follows the life of a young girl who experienced a tragic car accident on her way home from Disney World. After her family's car crashed into a military equipment truck carrying radioactive materials, Jones gained superpowers and began fighting crime under the name Jewel.
Jones eventually gave up on her superpowers and became a private detective in New York, which is where the Netflix show is set.
Time reports this will be the first Marvel show featuring a female superhero as the leading lady. Jessica Jones is the second addition to the streaming service's Defenders series, which will eventually all be combined into one larger project, according to ScreenRant. That project will follow the plots in Jessica Jones, the already-released Netflix series Daredevil and two other upcoming Marvel superhero shows centered on Luke Cage and Iron Fist.
With a steady stream of superhero movies and films coming out lately, the Jessica Jones story could easily get lost among all the noise, but executive producer Melissa Rosenberg told reporters during a July press tour the new series is offering something unique, reports Entertainment Weekly.
"Jessica Jones is a very, very different show than Daredevil," Rosenberg said. "We exist in a cinematic universe, and the mythology of the universe is connected, but they look very different, tonally they're very different ... That was my one concern coming in: Am I going to have to fit into Daredevil or what's come before? And the answer is no." 
According to IMDb, David Tennant stars alongside Krysten Ritter as Kilgrave, who may be better known by his superhero name, the Purple Man. The cast also features Mike Colter as Luke Cage, Rachel Taylor as Trish Walker and Carrie-Ann Moss as Harper.