'Empire's' Taraji P. Henson Destroys the Biggest Myth About Black Women in Hollywood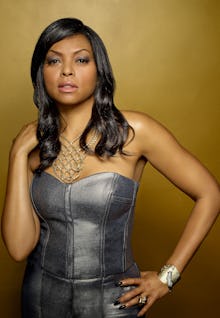 Taraji P. Henson scored the role of a lifetime when she was cast as Cookie Lyon in the record-shattering FOX television series Empire.
But by her own admission, the defining moment of her acting career actually came off-screen, and it says a lot about the challenges facing black women in Hollywood.
In an interview with Glamour this week, the 45-year-old Emmy Award nominee revealed that the "best moment of [her] life" occurred during an epiphany she had at an Empire screening in Paris last year:
From Glamour:
"[Last year] we went to Paris and screened the pilot for a thousand people. Lee Daniels [the series' co-creator] brought me onstage. The audience stood up on their feet and clapped. I cried because, for so long in Hollywood, I've been told that black women don't do well overseas, that they can't open a film overseas. That moment for me was the best moment of my life. That's better than any trophy, any award, any nomination."
Background: It seems pretty simple, but Henson's response to the Paris audience is rooted in a troubling reality for black actors.
During last year's hack of Sony Entertainment emails, a conversation reportedly came to light in which a producer cautioned Sony Chairman Michael Lynton about casting Denzel Washington in the 2014 thrillerThe Equalizer because he is black.
According to BuzzFeed, the producer wrote: "I believe that the international motion picture audience is racist. In general, pictures with an African-American lead don't play well overseas."
This notion has permeated the industry for years, and is largely taken as a given. A Hollywood Reporter article about the international release of the N.W.A biopic Straight Outta Compton cited multiple films with black leads that disappointed in overseas box offices. Examples included the World War II drama Red Tails (2012), and last year's Ride Along starring Ice Cube and Kevin Hart.
"I believe that the international motion picture audience is racist. In general, pictures with an African-American lead don't play well overseas."
But besides both films being critically panned in the U.S., the decision not to cast black actors because they are perceived as box office poison overseas seems a self-fulfilling prophecy — and fails to represent a balanced picture of reality. The portion of films that Hollywood releases starring black actors to begin with seems hardly sufficient to build a definitive case, and the pool will not grow any larger unless black films are given a chance.
This seems especially true in light of recent research: The University of California, Los Angeles, Ralph J. Bunche Center for African American Studies' annual Hollywood Diversity Report has consistently showed that, at least domestically, Hollywood films that feature more racially-diverse casts tend to perform better at the box office. Television networks like ABC are starting to get the memo, peppering their lineups with shows built around casts of color and their stories.
Gender complicates the picture even more. Black actors like How to Get Away With Murder star Viola Davis have spoken out prominently about the limited roles in which Hollywood decision-makers seem capable of imagining black women.
"I've never seen anyone who even looks like me be sexualized on television or in film," Davis recently told Entertainment Weekly. "Ever. When people say they're tired of hearing that, I always say, 'Okay, well, you give me an example and then I'll stop talking about it. But I'm gonna talk about it until you hear it.'"
In this context, Henson's reaction to the Paris audience speaks to a much larger issue. And if the growing global interest in Empire is any indication, networks and studios are going to consider some changes.
The second season of Empire premieres Sept. 23.
h/t The Root