Tumblr Just Launched a Fashion Line, and It's Everything You Love About the Site IRL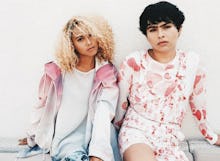 No Pepe the Frog or Netflix and Chill references found here, although there could be. Tumblr's first-ever fashion collection (yes, really) has a sense of whimsy, futurism and humor that translates into a clothing line — specifically, a colorful clothing line for those who aren't afraid to stand out.
To celebrate its 10th year at New York Fashion Week, Tumblr teamed up with 10 artists to turn their art into wearable reality. The collection, which Tumblr unveiled Thursday at a pop-up shop and on Fashion.Tumblr.com, doesn't try to scream "runway." 
Instead, it's the embodiment of how the Internet, art and fashion can work together as one: All the artists featured got their start on Tumblr, and they bring the best of the site to their clothes.
"I got Tumblr about three or four years ago and it was really all about self-expression," Brian Vu, 25, whose designs (above) were created with photographs of agate and Photoshop, told Mic. "It was made by people who wanted to come together to have a good place forever. It was like a blog but also all about imagery and comedy." 
Like Vu, many Tumblr artists have used it not only as a way to showcase work, but to connect with others. Tumblr then turned around and connected with them: Earlier this year, the site approached the artists and worked with them on picking the right image to then create a textile and then a design. 
There are sweatshirts, utility jackets, hats, shoes, pants, backpacks and even overalls, each with a piece of artwork extending over the entire garment. 
The 10 artists in the collection include Hattie Stewart, a Rookie Mag favorite, Lauren Pelc-McArthur, John McLaughlin and Monica Ramos, whose work has been featured in the New York Times. 
But it's the artists' work beyond the art establishment's walls that make them stand out.
John McLaughlin, 26, designed the character above, which he's come to call "fuzzy dude" two years ago. "I was just experimenting with 3-D programming and putting shapes together. I was bored at work and moving shapes around on a computer until this fuzzy guy showed up," he told Mic. 
Like Vu, and many other users, Tumblr popped into his life through word of mouth and immediately became a new creative outlet. 
"I first got a Tumblr the summer of 2013. Friends of mine told me they were putting GIFs up," he said. "I was experimenting with animations at the time so it was where I could post scrap pieces that weren't for clients up online for people to see." 
The collection's lookbook reflects the community Tumblr has amassed since its founding in 2007. On Tumblr, gender nonconformity is a nonissue, as is finding a diverse set of models. It's clear Tumblr knows what its users like to see and how they like to be represented. 
Better yet, the collection has everything a Tumblr user loves: randomness, skeletons, psychedelics, even a print that looks like space but is actually itty bitty people. And it speaks to a generation that wants something original. Where else can you get a backpack with a digital landscape and an aqua skeleton? Where else can you get a shirt (and pants) with rows of pink, purple and green fuzzy muppets? 
The collection will be sold at Tumblr's Fashion Week pop-up shop, the Lightbox, through Sunday in New York City. After that, fans can head over to Print All Over Me to snag the remaining pieces.  
Check out the rest of the designs below.