Carrie Underwood Just Nailed the Problem With Fashion Week — and Showed Us an Alternative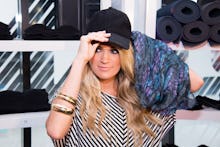 The fashion elite whipped into their semiannual frenzy this week as New York City launched into Fashion Week on Thursday. But our guess is that most regular women aren't quite paying attention — and there's a good reason why.
"Fashion Week is just so pretty and so beautiful... with all these perfect women without an ounce of body fat on them, walking down the runways, and they're like 8 feet tall. It's completely not 99.9% of the population."
That's Carrie Underwood speaking, who herself knows something about beauty and glamour. But the American Idol alumna is taking a different approach to fashion, as she told Mic during her own Fashion Week presentation.  CALIA by Carrie Underwood, sold exclusively at Dick's Sporting Goods, is all about exercise clothes, hitting the "athleisure" trend that's overtaken our closets.
It's a clothing line that represents what women want, not only because we love wearing yoga pants but because it takes into account what women really need.
Clothes made for women, by women: There was girl power in the air at Underwood's presentation, which hit the exercise theme hard with a juice bar and spin bike for effect. But the vibe was kind, forgiving; if the show was a workout class, it would be an encouraging Pilates session, not commando-led Crossfit.
That positive vibe came from the top, Underwood told Mic, given that the team behind CALIA is all women.
"We had our meetings in the beginning and I was like, 'Wow, every single person who's in that room is a woman,'" she said. "You can tell when clothes are made by men for women, because they just don't get it."
That means clothing items that work with someone's busy life — something Underwood, a new mother, is familiar with.
"We legitimately wanted to make things that could carry you through your day, which is why we have a lot of layering pieces," she said (it's true — the show was almost entirely leggings layered with big sweaters). "We really wanted to make clothing for busy women."
Working with a woman's body, not against it: More important than layering, for women, is fit. That's especially crucial for workout clothing, which needs to move with a person's body without holding them back.
"We tried to think of what we all have in our closets that we wish were just a little bit different," Underwood said. That includes wanting shirts that hang a bit lower in the back to cover up any skin or booty insecurities, she said, so "you feel cute and covered, and not worried about any wardrobe mishaps or looking inappropriate anywhere."
That also includes wider waistbands that don't ride down, and ones that won't cut in and give you a "muffin top" — something curvier exercisers can attest to as a major need. 
In short, Underwood said, women want "things that just keep it all looking like it should look, like you do look... but like other clothes don't make you look." Clothing that makes us — and our bodies — look and feel our best.
Models who look like us: To showcase clothes that women are actually going to want to wear, it helps to have models who look like the average woman. It's not just nice, it's good business sense: Women are more likely to buy clothes when the fashion models represent different sizes.
The CALIA models on Thursday fit the bill, representing different heights, body shapes and waistline sizes, as well as personalities. They weren't fashion professionals, but rather women with other day jobs that they scurried off to after the early morning show.
"We definitely wanted 'real-looking' women, and they were," said Underwood. "We want to make women feel good."
As most leggings and sweaters do — and more fashion shows could use, too.