This African-Inspired Shoe Line Reveals How Beautiful Fashion Can Be Without Appropriation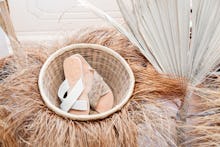 You probably don't know the name Aurora James yet, but you will soon. 
James is the 31-year-old founder and creative director behind a line of African-inspired shoes called Brother Vellies, a line that's earning praise for its cool look and even cooler method of manufacturing.
How cool? On Thursday, her presentation at New York Fashion Week drew just about every fashion insider in the business — oh, and Kanye West.
Brother Vellies is named for velskoen, a South African walking shoe that looks pretty close to today's trendy desert boots, according to Racked. But what James' company makes isn't just an American desert boot spinoff. 
In January 2013, after years of working as a production assistant, model agent and curator, James shifted her focus to bringing her favorite traditional African footwear to the American masses. In doing so, the Toronto native created sustainable artisanal jobs in Africa. 
"When I found out more about how traditional craftsmanship is dying out in Africa, it felt like a great opportunity to develop my love of shoes and also help people in the process," James told The Cut.
According to the company, each of her shoes — which include sandals, boots and shoes — are handmade in South Africa, Kenya or Morocco by a small team of artisans comprised of men and women. They pay special attention to maintaining both the spirit and durability of the traditional shoes, steering clear of any "cultural appropriation" missteps by veering far afield from the original craft. 
Also, they're beautiful: 
The brand now has fans for miles. It helps that James herself is incredibly stylish, with a wardrobe worth envying (Vogue profiled her this spring). Even more appealing is that Brother Vellies is a brand shoppers can feel good about. 
The shoes are manufactured with a socially responsible mindset. The African motif that runs through her line is actually African, designed in Africa and made in Africa in a environmentally respectful manner. The manufacturers are paid a livable wage. The shoes are beautiful and ethical. 
"Instead of giving someone a free pair of shoes, enable them to make their own pair of shoes. It's really about employment versus charity," James told Racked. "I don't need to give [our employees] donations, because I'm giving them jobs. The people who work for us have money. They can pay their own rent; they can buy their own house because they have a job."
Her most popular shoe is the velskoen ("vellies" for short), made from textiles like suede, wool and fur. With those materials, they do run a pretty penny, starting at $195 to a crocodile pair costing $1,450. Sandals range from a reasonable $150 to an elaborate espadrille that goes for $1,250. 
And during Thursday's Fashion Week presentation, James debuted a new line of Brother Vellies bags, complete with a fur mohawk. 
Fun, luxe and ethical — the shoes are three things that don't usually go together. But with a trendsetter like James taking the lead, other designers are bound to pay attention. Having Kanye around can't hurt, either.