Here Are the 10 Books Americans Try to Ban From Schools and Libraries Most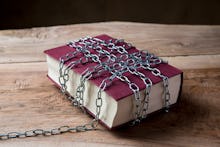 If there's any doubt censorship is still a threat in the United States, the list of books Americans try to ban the most will fix that up.
As compiled by the American Library Association's Office of Intellectual Freedom, the list tracks which books are challenged most each year in libraries and schools. "Challenge" is the OIF's term for "a formal, written complaint, filed with a library or school requesting that materials be removed because of content or appropriateness."
Though this list represents the most challenged of 2014, some books have appeared for years running. Most are challenged for depictions of sexuality, though drug use and violence are also highly cited. A book about a family of penguins even got challenged for promoting "the homosexual agenda." 
While there are major efforts to challenge the banning of books, including an annual Banned Books Week (set for Sept. 27 through Oct. 3 this year), this list is evidence the battle is ongoing. Many of these books have been successfully removed from school and libraries — places that most need media that explore a multitude of important subjects. That's the danger of censorship like in these cases: It keeps audiences from reading what could help them grow.
1. The Absolutely True Diary of a Part-Time Indian, Sherman Alexie
Alexie's novel is a young adult book about a teenage cartoonist living on an American Indian reservation. He chooses to go to an all-white school, along the way learning about drugs, sex and other unsavory topics. As a result, it's become something of a lightning rod for controversy, so much so that Alexie himself had to respond in a Wall Street Journal op-ed in 2011.
"They are simply trying to protect their privileged notions of what literature is and should be," Alexie wrote of those challenging the book. "They are trying to protect privileged children. Or the seemingly privileged." The book has been successfully banned in a few cities.
Reasons given for banning: "anti-family, cultural insensitivity, drugs, alcohol, smoking, gambling, offensive language, sex education, sexually explicit, unsuited for age group, violence ... depictions of bullying"
2. Persepolis, Marjane Satrapi
This graphic novel (in two parts, Persepolis and Persepolis 2) depicts French illustrator Satrapi's life growing up in Iran during the war with Iraq, following her through her time in an Austrian high school, her marriage in Iran and her final move to live in France. Along the way, she witnesses much violence and hatred. Owing to its graphic material, the book was banned from seventh-grade classrooms in Chicago in 2013.
Reasons given for banning: "gambling, offensive language, political viewpoint ... politically, racially and socially offensive, graphic depictions"
3. And Tango Makes Three, Justin Richardson and Peter Parnell
Richardson and Parnell's book about the real-life same-sex penguin couple in the Central Park Zoo is far more controversial than you'd imagine a children's book about penguins to be. It's made the list in seven different years, topping it four times (2006-2008 and 2010). And Tango Makes Three became something of a flashpoint in the battle over marriage equality in the mid-aughts. To see it on the list the year before the Supreme Court ruled for same-sex marriage proves that while the country has made progress, there's still room to grow.
Reasons given for banning: "anti-family, homosexuality, political viewpoint, religious viewpoint, unsuited for age group ... promotes the homosexual agenda"
4. The Bluest Eye, Toni Morrison
Morrison's first novel is one of two by the author that frequently appear on the list (along with her Beloved, which appears on the 2006 and 2012 lists). The story follows a black girl living in post-Great Depression poverty, facing issues of incest and molestation. Time has even named The Bluest Eye one of the U.S.' top ten book controversies.
Reasons given for banning: "sexually explicit, unsuited for age group ... contains controversial issues"
5. It's Perfectly Normal, Robie Harris
There's something darkly hilarious about banning a book that tells people it's okay to be growing into their sexual identity. Challengers would likely prefer to rename the book It's Not Perfectly Normal, Don't Read This, Sex Is Bad. That might not fit on a cover, though. Harris' book about puberty provokes quite strong reactions. One woman stole all the copies of the book from a Maine library, calling it "pornographic."
Reasons given for banning: "nudity, sex education, sexually explicit, unsuited to age group ... alleges it child pornography"
6. Saga, Brian Vaughan and Fiona Staples
This comic series is a somewhat surprising addition to the list, especially considering one of the listed reasons is being "anti-family." As i09 noted, this sci-fi series is basically all about keeping a family together. The main characters are raising a baby while on the run. There were other offenses to challengers, though — including the depiction of a woman breastfeeding on the cover of the first book.
Reasons given for banning: "anti-family, nudity, offensive language, sexually explicit, and unsuited for age group"
7. The Kite Runner, Khaled Hosseini
Hosseini's The Kite Runner is something of a perennial on these lists. Despite first being published in 2003, it's currently battling to survive an attempted ban in North Carolina. The book is honest about its characters' lives in Afghanistan. It doesn't shirk from depicting the intense violence many suffered during the rise of the Taliban. It's the kind of book that could really teach readers something about a culture they don't know well — if they can get their hands on it, that is.
Reasons given for banning: "offensive language, unsuited to age group, violence"
8. The Perks of Being a Wallflower, Stephen Chbosky
Another frequently challenged book in years past, The Perks of Being a Wallflower is notably quite frank about the experiences of growing up, surviving high school and living with trauma. Like The Kite Runner, it's still dodging challenges — and, as was the case recently in Connecticut, falling to them. The book still has a dedicated group of supporters, however, and was even adapted into a 2012 film starring Logan Lerman and Emma Watson.
Reasons given for banning: "drugs, alcohol, smoking, homosexuality, offensive language, sexually explicit, unsuited for age group ... date rape and masturbation"
9. A Stolen Life, Jaycee Dugard
Dugard's memoir about being kidnapped and sexually abused for 18 years is a gripping, highly personal story. In Michigan, the book was banned for being too graphic for seventh graders. In a slightly positive twist, however, the book was kept in high school libraries because, as the superintendent said, the material "may be of help to" those who have suffered similar abuses.
Reasons given for banning: "drugs, alcohol, smoking, offensive language, sexually explicit and unsuited for age group"
10. Drama, by Raina Telgemeier
At first pass, a graphic novel about a theater kid set designing for her school play doesn't seem like the kind of book that belongs on this list. Apparently, though, the story includes "sexually explicit" material — most of which seems to be about the main character exploring her sexuality. Looking at previous years' lists, however, this isn't so surprising: Occasionally a light, youth-focused book will find itself on the list. The Captain Underpants series was previously the most-challenged book in the country for two years in a row.
Reasons given for banning: "sexually explicit"