This Is What Happens When You Ask Queen Serena Williams Why She Isn't Smiling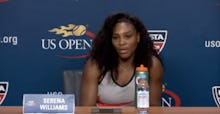 Serena Williams is no stranger to dealing with the ignorance of others. The tennis player — who is ranked No.1 in the world, on the cusp of becoming the first woman to win a Grand Slam since Steffi Graf in 1988 and is also poised to surpass Graf's record of 22 major wins — has faced racism, sexism and other types of ignorant treatment from fans and the media. So when a reporter asked the talented player why she wasn't smiling at a recent press conference, Williams was ready with a perfectly dignified, honest response. 
"It's 11:30," Williams said, according to a video posted on Facebook. "To be perfectly honest with you, I don't want to be here. I just want to be in bed right now. I have to wake up early to practice and I don't want to answer any of these questions and you guys keep asking me the same questions. So you're not making it super enjoyable."
Although Serena's response is refreshing and likely one that many can relate to, it's also an important reminder that female public figures are constantly asked ridiculous questions. In fact, it's a phenomenon the #AskHerMore campaign during this past year's awards seasons by encouraging reporters to ask female actresses more complex questions about their work — and one sports reporters would clearly do well to follow as well. 
While Williams was able to laugh at the absurdity of the interaction — as others watching it after the face likely will as well — the point remains. When presented with the opportunity to ask a woman as impressive as Williams a questions, perhaps it shouldn't be a sexist, undeniably unimportant one.