Rainbow Appears Ahead of 9/11 Anniversary Stretching From One World Trade Across Manhattan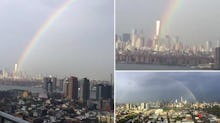 On a day of scattered rain showers, a rainbow appeared over the New York City skyline on Thursday, causing a stir on social media. Many who photographed the rainbow were quick to point out that it appeared one day before the 14th anniversary of the Sept. 11, 2001, terrorist attacks. 
Some images depicted the rainbow seemingly emerging from One World Trade Center, which opened in November 2014 and was built adjacent to the spot where the twin towers once stood in lower Manhattan. The rainbow appeared around 8 a.m. EDT, WABC-TV reports. 
Witnesses shared photos of the rainbow on Twitter, Facebook and Instagram: 
Some images depicted two rainbows appearing at the same time. 
On the same day, heavy rain caused widespread flooding in parts of Long Island and New Jersey, Pix 11 reports.