These 12 Great American Books Were Actually Written by Immigrants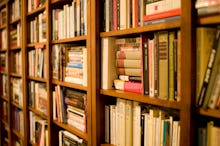 Is there anything more human than the urge to tell a story? Whether it's gossip or the Great American Novel, a story is an insight into the way someone else's mind works, a slice of life we may never have seen on our own. 
You oughta know: In fact, that urge to have someone else understand what we're going through is what drives many American immigrants to write. Indian-American author Jhumpa Lahiri has addressed why she writes when she said, "What drew me to my craft was the desire to force the two worlds I occupied to mingle on the page, as I was not brave enough, or mature enough, to allow in life." 
The questions the United States' immigrant authors tackle in their stories are American questions: What is American identity? How do I fit into this tapestry?
Currently, only 51% of Americans believe that immigrants strengthen the country through their talents and hard work. However, these books are evidence to the contrary. 
1. Jacob Riis, How the Other Half Lives (1890) 
When Riis migrated from Denmark to New York City in 1870,  he saw the dangerous, unlivable conditions that many poor immigrants tolerated in the Lower East Side's tenement district, and he wanted to expose that truth. What started as an article and some photographs in Scribner's in 1889 became a book in 1890. The book captured images not only of the squalor that immigrants faced, but also discussed the greed and neglect of the wealthy people who owned the buildings. Then-police commissioner Theodore Roosevelt said to him: "I have read your book, and I have come to help." 
The book also exposed the widespread use of sweatshops and dangerously cheap labor practices, while becoming a groundbreaking precedent of muckraking journalism, since it led to reforms in housing, labor, education and sanitation.
2. Junot Diaz, The Brief Wondrous Life of Oscar Wao (2007) 
Diaz emigrated from the Dominican Republic to New Jersey as a teen to reunite with his father, who had been working in the United States throughout his childhood. While in college at Rutgers University, Diaz was exposed to Toni Morrison and Sandra Cisneros, authors whose work would eventually motivate him to become a writer.
The Brief Wondrous Life of Oscar Wao was published in 2007 to instant critical acclaim, winning the 2008 National Book Critics Circle Award and the Pulitzer Prize for fiction. The book follows the life of Oscar De Léon, a Dominican boy who is obsessed with the science fiction, fantasy genres and falling in love. 
Diaz sees a strong connection between these genres and the immigrant experience. In a 2007 interview with Edwidge Danticat, Diaz said, "The X-Men made a lot of sense to me, because that's what it really felt like to grow up bookish and smart in a poor urban community in Central New Jersey." 
3. Vladimir Nabokov, Lolita (1955)
Russian native Nabokov migrated to the U.S. in 1940 at age 41 to work as an entomologist at the American Museum of Natural History. He began writing Lolita during butterfly-collecting trips in the western U.S. 
Lolita concerns the thirty-something professor Humbert Humbert and his attraction to and sexual relations with his 12-year-old stepdaughter, Dolores Haze, whom he calls Lolita. Humbert is himself a European living in the U.S., and the book is peppered with observations on American culture from a European perspective. It is considered one of best books of the 20th century, has been included on Time's list of the 100 best English-language novels published between 1923 and 2010 and also made Modern Library's list of the 100 best novels of the 20th century. 
4. Edwidge Danticat, Breath, Eyes, Memory (1994) 
Breath, Eyes, Memory chronicles Sophie Caco, who is raised by her aunt in Haiti before moving to New York City to live with her mother, who is still dealing with a traumatic rape, of which Sophie is the product. The story is based on Danticat's own experiences as an immigrant. 
The book was listed by Oprah's Book Club four years after it was published in 1994. Danticat was subsequently named to Harper's Bazaar's list "20 People in Their Twenties Who Will Make a Difference," a list of the "15 Gutsiest Women of the Year" in Jane magazine and "30 Under 30 Creative People to Watch" in the New York Times Magazine. 
5. Khaled Hosseini, The Kite Runner  (2003) 
Hosseini grew up in Kabul, Afghanistan, before moving to France at age 11. His family moved to New York seeking asylum four years later. Hosseini ended a 10-year medical career to pursue writing full-time after The Kite Runner's success. 
The story concerns the young Amir, a boy from Kabul. Its background is many of the tumultuous events that Hosseini's family had fled: Soviet military occupation, an exodus of refugees to Pakistan and the U.S. and the rise of the Taliban. The book spent over two years on the New York Times bestseller list, including four weeks at No. 1.
6. Jhumpa Lahiri, Interpreter of Maladies (1999) 
Lahiri was born in London to parents who were originally from West Bengal, India. She moved to the U.S. as a child and grew up in Kingstown, Rhode Island. Maladies was published in 1999 after years of her stories being rejected by publishers. The stories address issues like marital difficulties, miscarriages and intergenerational discord in the lives of Indian immigrants.
In a Newsweek essay, Lahiri spoke about her tenuous relationship with the term "Indian-American." She said, "Like many immigrant offspring I felt intense pressure to be two things, loyal to the old world and fluent in the new, approved on either side of the hyphen."
Lahiri won the PEN/Hemingway Award for best fiction debut of the year and the Pulitzer Prize for fiction for Interpreter of Maladies.
7. Jamaica Kincaid, Lucy (1990) 
The 1990 novel Lucy begins as the main character enters the U.S. from the West Indies to work as domestic help for a wealthy white family. It's a plot that resembles Kincaid's own life. Born in 1949 in Antigua, Kincaid moved to Scarsdale, New York, at age 16 to work. After attending some community college classes and a brief stint at Franconia College, she moved to New York City, where she first wrote for a teen girls magazine, then eventually the Paris Review and the New Yorker, where early sketches of Lucy found their first home. 
Kincaid is now a professor at Harvard University and a member of the American Academy of Arts and Letters.
8. Chang-rae Lee, Native Speaker (1995) 
Lee came to the U.S. from South Korea at age 3, and later earned his master's in fine arts from the University of Oregon . After the novel's overwhelming success, Lee began teaching at Hunter College's prestigious creative writing program. 
Native Speaker concerns Henry Park, a Korean-American industrial spy. It explores the feelings of isolation and alienation that many first-generation immigrants can feel. Ultimately, the book is about the rough process of "becoming" American. The book won many awards, including the Hemingway Foundation/PEN Award. 
 9. Anzia Yezierska, Bread Givers (1925)
Yezierska settled into New York's Lower East Side with her Jewish family after arriving from Poland at a young age.  She spent her 50-year writing career exploring the plight of Jewish and Puerto Rican immigrants in the city. 
Bread Givers, published in 1925, is about a 10-year-old Jewish girl who must deal with life in the immigrant enclave of the Lower East Side's tenements. As the protagonist ages, it also explores her wrestling with her Jewish identity. The novel deals with the clash between new and old immigrants, and between immigrants and natives. 
10. Cristina Garcia, Dreaming in Cuban (1992) 
Cristina Garcia was born in Havana, but her family moved to the U.S. when she was 2 years old. After earning a political science degree and working for Time as a reporter and researcher, Garcia turned her attention to fiction writing. She published Dreaming in Cuban in 1992. She later told the Chicago Tribune, "I surprised myself by how Cuban the book turned out to be." She added, "I don't remember growing up with a longing for Cuba, so I didn't realize how Cuban I was, how deep a sense I had of exile and longing." 
The novel centers on three generations of the same Cuban family: a daughter, a mother and a grandmother. Cuban history, culture and Santeria are also essential elements of the novel, which was a finalist for the National Book Award.
11. Art Spiegelman, Maus (1991) 
Spiegelman emigrated from Sweden in 1951 at age 3. Spiegelman studied art and philosophy and, influenced by MAD magazine, began a career in comics. 
Spiegelman began interviewing his father about his recollections of the Holocaust for Maus, a graphic novel with two timelines. One thread concerns the present and depicts Spiegelman and his father's conversation, while the other depicts the events of the Holocaust using different animals to depict different races: Jews are mice, Germans are cats and non-Jewish Polish people are pigs. 
The book was a massive success and became the first graphic novel to win a Pulitzer Prize. 
12. Azar Nafisi, Reading Lolita in Tehran (2003) 
After the conservative Islamic revolution brought more stringent laws to her home country of Iran, Nafisi found herself in conflict with the college faculty regarding the books she wished to teach — books like Lolita. After quitting her job, Nafisi invited some students from her class to meet at her home once a week to discuss the books.
Nafisi came to America in 1997 and wrote Reading Lolita in Tehran: A Memoir in Books. The book spent 117 weeks on the New York Times bestseller list and won many awards. London's Times also named it one of the "100 Best Books of the Decade."