Joe Biden Gives Emotional Interview on Stephen Colbert's 'Late Show,' Talks 2016 Run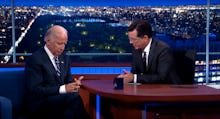 On his third day as host of The Late Show, Stephen Colbert took a serious turn in an emotional interview with Vice President Joe Biden. Over an extended 20-minute dialogue, the two men spoke at length about Biden's son Beau, who recently died of brain cancer, his own service to the country and whether the 72-year-old would make his third attempt at the nation's highest office. 
Things began light. "Everyone likes Joe Biden," Colbert quipped at the smiling vice president, urging cheering audience members not to "jump" from their seats in the Ed Sullivan Theater. 
Colbert, however, wasted no time launching into a discussion of the late Beau Biden by offering his personal condolences for the loss. The comedian's heartfelt emotions were a stark departure from the character he was best known for on The Colbert Report. 
Biden, often peering at his hands, was reflective. "You know you're a success as a parent when you turn around and look at your child and realize they turned out better than you," he said, quoting his father. "I was a hell of a success."
Biden spoke repeatedly about his late son's empathy and humility. Beau, who served in Iraq during his father's tenure as vice president and was highly decorated, went to great lengths to play down both his family name and achievements. The elder Biden spoke of how his son ripped off his name patch while deployed to ensure no special treatment. In another instance, Beau refused to wear his bronze star at a ceremony until literally being ordered to by his commanding officer.  
In dealing with his grief, Biden said he was sheepish when he remembered that millions of American families have suffered similar losses without the benefits of family and support networks like his. He remembered another saying from his father that he said spoke to the grit of so many he families he had met:
"No one owes you anything. You just got to get up."
Before things became too heavy, Colbert redirected the conversation after the commercial break to Biden's other elephant in the room. "Close policy advising of the president, and being with him there for the tough moments — there is one job that that preps you for," said Colbert to which Biden responded gamely, "chief of staff."
As he has in the past, Biden declined to make a formal announcement and candidly said he wasn't sure his heart was in it. 
"I don't think any man or woman should run for president unless, No. 1, they know exactly why they would want to be president, and two, they can look at the folks out there and say, 'I promise you, you have my whole heart, my whole soul, my energy and my passion to do this,'" Biden said. "I'd be lying if I said I knew I was there." He was, however, optimistic about the future of the country, saying the United States' greatest enemy might be itself. 
"We are so better positioned than any nation in the world," said Biden. "If we just get out of our own way."
In addition to Biden, The Late Show featured an interview with Uber CEO Travis Kalanick and musical guest Toby Keith. 
Watch the full Biden interview below.