End of Life Option Act California: What Happens Next as Lawmakers Debate Right-to-Die Bill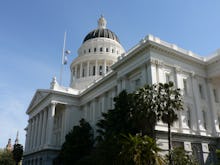 Lawmakers in California are moving forward with a bill that would allow terminally ill patients to obtain medication to end their lives, Reuters reports. California's End of Life Option Act, known as the right-to-die bill, formally the passed the state Assembly Wednesday and has moved to the state Senate, where it is likely to pass. The Senate could approve the bill as early as Friday. 
The bill would then head to Gov. Jerry Brown's desk for signing. Brown, a Democrat and one-time almost Catholic priest, has not indicated whether he would sign the bill into law. The Catholic Church has strongly opposed California's End of Life Option Act. 
Advocates say it's about dying with dignity. Doctor-assisted suicide is legal in five states: Montana, New Mexico, Oregon, Vermont and Washington. If passed, the bill would make California the sixth state to allow physicians to prescribe life-ending drugs to patients who meet certain criteria. For one, before medication could be prescribed, the bill would require two doctors to determine that a patient has fewer than six months to live. 
Supporters of the bill have said it's about allowing patients with terminal illnesses to avoid suffering. "Imagine that it's one of your constituents, suffering in agonizing pain - their pain medication no longer works," bill supporter and Assembly Member Luis Alejo, a Democrat, said, according to Reuters. "Then imagine that it's your father or your mother or your grandparents or your daughter." 
California bill was prompted by a viral news story. State lawmakers have been pushing California's right-to-die bill for nearly 25 years; however, it was the death of 29-year-old Brittany Maynard last November that gave the movement momentum, the Los Angeles Times reports. Maynard, a California resident, was diagnosed with terminal brain cancer and moved to Oregon so she could end her life. Under Oregon's Death With Dignity Act, passed in 1997, terminally ill patients can legally end their lives with a doctor's assistance. 
Maynard's story went viral on social media when she uploaded a video talking about her choice to end her own life. "I am heartbroken that I had to leave behind my home, my community and my friends in California, but I am dying and refuse to lose my dignity," Maynard says in the video. "I refuse to subject myself and my family to purposeless prolonged pain and suffering at the hands of an incurable disease." 
"There is a sense of pride in the legislature," Dan Diaz, Maynard's husband, said during Wednesday's debate on the End of Life Option Act. "Today it reaffirmed the reason Brittany spoke to begin with. The legislature will no longer abandon the terminally ill where hospice and palliative care are no longer an option. They can have a gentle passing."