Reebok Just Showed Everyone How Gender-Neutral Clothing Is Done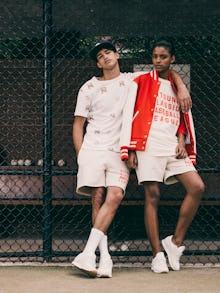 Reebok's latest capsule collection with Maison Kitsuné is hitting the right notes on both sides of the gender spectrum. That's because the baseball-inspired looks are perfectly androgynous and suitable for all people.
Behold:
And it's all intentional, according to the cofounder of Maison Kitsuné, the French and Japanese-inspired label known for sporty clothing and music collaborations. Maison Kitsuné cofounder Masaya Kuroki told Refinery29 he was thinking about making clothes for both genders from the get-go. The baseball theme resulted in a varsity-style jacket, shirt, sweatshirt, shorts and a revamped Classic Leather Nylon sneaker for men and women. 
The baseball theme was also a natural fit for both companies. Reebok Classic is known for its baseball heritage, and Kuroki played the sport as a kid. While designing the collection, he kept in mind his female friends who also love baseball but can't play with men.
"Why only do men play baseball? I have a lot of girlfriends who want to see baseball and support a lot of teams. Reebok has a very open mind ... and so does Kitsuné. So when I was designing I was already thinking about the unisex thing," Kuroki told Refinery29. "That should be the next step of sporting in general: Men and women playing together."
The gender divide in sports might be pretty well-established, but when it comes to sportswear, the same rationale doesn't always apply. In fact, it's one segment of the retail industry where the rules of style and function are mostly the same for both genders. Sales for athletic clothing has risen in popularity, particularly for women, with the "athleisure" trend that blends casual, yoga-style clothing with sneakers for a trendy, everyday look. It's part of the reason why Nike is the world's most valuable brand right now.
It might come naturally to athletic clothes, but gender-neutral clothing has been gaining momentum. In August, market research analyst firm NPD Group released a report called "Blurred Lines: How Retail is Becoming Less Gendered, and Why You Should Care." Its analysis found that men and women often wear the same hoodies and other athletic clothes from companies without much regard to gender distinctions.
Reebok's collection with Maison Kistuné is understated in its sporty, casual look. That the collection marks back to an earlier era circa might seem ironic, given that an androgynous design feels so of the moment. 
The Reebok and Maison Kitsuné collection launches Saturday. 
h/t Refinery29