New Emojis! Here Are the Best Characters Coming to Your iPhone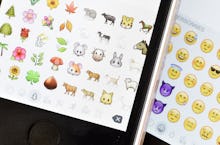 If the eggplant is too subtle for you, you'll soon have a more direct way to sext: "Netflix and chill" now comes in emoji form.
Thanks to the release of the beta version of iOS 9.1 on Thursday, we now have an idea of what the latest batch of our favorite symbols looks like. Featuring a burrito, a block of cheese, the "rock on" hand gesture, a unicorn, a turkey and a bottle of champagne, among other things, the new offerings will make it easier to tell your friends you're stoned, turnt or angry. 
We have a lot to look forward to. The Next Web has a rundown of the new characters, including a lion, a robot face, an eye, a synagogue, a palette, a hot dog, a mosque, a squirrel, a turkey, a face with a zipper mouth and, finally, a taco, which people have been requesting for years.
Perhaps most importantly, there are new popcorn and "admit one" emojis, which means a "Netflix and chill" emoji message is only a tap or two away. Add the old-school snowflake to emphasize the "chill." 
There's also a volleyball, a tornado, an ethereal woman blowing what looks like cold air (we're as lost as you are), a crab, a scorpion and a nerdy face. 
The new emojis come from Unicode and are part of the Unicode 7.0 and Unicode 8.0 updates. The former was released in June 2014; the latter debuted a year later. Though some emojis from 7.0, like the frog face, have already been integrated, others, including the middle finger, have only now made the cut. 
As Emojipedia notes, iOS 9.0 "appears [to] be the first operating system to include every single emoji in the Unicode Standard." (Unicode 9.0, which was approved earlier this summer, hasn't made it in yet.)
For now, the emojis are only available to those with the beta version of iOS 9.1. But iOS 9.0 is set for public release on Sept. 16, which means a full release isn't far off. You'll have Netflix and chill emojis in time for Thanksgiving. #Blessed.
h/t The Next Web