Kanye West Yeezy Season 2: Kim Kardashian Gives Sneak Peak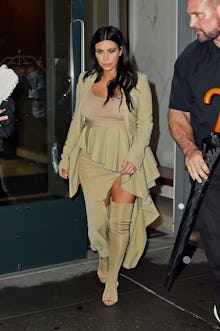 Yeezy season may already be upon us. 
Although Kanye West's Yeezy Season 1 collaboration with Adidas has yet to hit stores, Kim Kardashian-West stepped out Thursday night in what may have been the first major look at the following season of her husband's clothing line.
Mr. and Mrs. West were out for dinner in New York Thursday night when Kardashian-West posted a mirrored photo of herself on Instagram, along with the caption: "TONIGHT- GIVENCHY X YEEZY."
While Kardashian-West's outfit seems to match flawlessly from head-to-toe, it appears the only piece from West's upcoming collection may be the thigh-high boot, while the maxi skirt is Givenchy.
A second Instagram post featuring a close-up of the open-toe tan boots was also posted with the caption "SNEAK PEEK- YEEZY SEASON2." 
The sneak peak for her husband's latest project with Adidas seems to be coming at just the right time. Contemporary fashion website HypeBeast reports the latest editions of Kanye West's men's sneaker line, the highly anticipated Yeezy 950 boot and a new variation of Yeezy Season 1's 350 colorways, are set to be unveiled this Fall.
According to HypeBeast, Yeezy Season 2's 2015 Fall/Winter collection could drop as early as October, which would explain Kardashian-West's early endorsement.
So far the only product from West's collaboration with Adidas to hit shelves has been the popular Yeezy sneakers, which go for $200. While the artist's focus will divert slightly from the successful shoe line he's managed to create widespread excitement and anticipation for, West tells Ryan Seacrest Season 2 may be much different from what we've seen so far.
"I just want people to be safe and patient, I know you can run up on this 14-year-old kid and take his Yeezys, but just be patient because we'll make more Yeezys," West told Seacrest. "Eventually, everybody who wants to get Yeezys will get Yeezys. Adidas has promised me that because there's so many kids that wanted them, but couldn't get them. And I talked to the heads at Adidas and they said, 'We can make them.'"