How to Watch This Weekend's Partial Solar Eclipse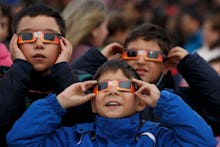 This Sunday, sky-gazers will have one last chance to catch a solar eclipse in 2015 when Earth, the moon and the sun align for a partial solar eclipse. The next won't be until March 9, Business Insider  reports.
A partial solar eclipse occurs when the moon passes between the sun and Earth, casting its shadow onto Earth's surface. From the ground, it appears as though the sun is being blotted out. Sunday's eclipse is expected to cover up to 79% of the sun, Sky and Telescope reports.
Because the moon's shadow isn't large enough to cast darkness over the whole earth, only certain regions will see the cosmic event. People living on the southern tip of Africa, in the south Indian Ocean and Antarctica will have front-row seats to Sunday's partial solar eclipse. The best urban view will be in Cape Town, South Africa, Space.com reports. 
Other countries with a clear view of the eclipse are Madagascar, Mozambique, Zambia and Zimbabwe. "The eclipse will begin in Cape Town just as the sun and moon are rising at 6:49 a.m. local time," Space.com says. "Early risers will see a tiny bite out of the sun. At 7:43 a.m., the eclipse will reach its maximum, and by 8:50 a.m., it will be over."
When viewing a solar eclipse, it's important to remember never to look directly at the sun. To see tips for how to watch a solar eclipse, click here.
Not a resident of southern Africa? Slooh, an online observatory that connects its ground-based telescopes to the Internet, is offering live coverage of the partial solar eclipse. However, those wanting to access the live images will have to register first.