Osama Adbul Mohsen ID'd as Syrian Man in Video of Hungarian Camerawoman Kicking Migrants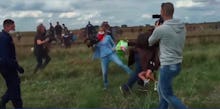 Osama Abdul Mohsen has been identified as the man who was filmed getting tripped by Hungarian camerawoman Petra László while escaping a refugee holding camp in Hungary on Tuesday, NBC News reports. Mohsen, a Syrian soccer coach, had fled his hometown in Syria after it was destroyed in the ongoing civil war, his son said. 
"We lost our house in Syria after suffering a number of artillery shells by [President] Assad's forces," Mohsen's son Almuhannad Abdullmhseen, who was in Turkey, told NBC News. "I could not imagine the painful reality they experienced in those moments," Abdullmhseen said of the day his father and other refugees, mostly from the Middle East, broke through a refugee camp police barrier and sprinted across a field in the Hungarian village of Roszke, near the Serbian border. 
Video of refugees sprinting from the camp appeared to show László tripping Mohsen on purpose. The footage first appeared on Twitter in a post by reporter Stephan Richter of the German television channel RTL, the Guardian reports. The 20-second clip was retweeted thousands of times and quickly drew ire around the Internet.
Another media outlet caught László kicking a young girl in the leg. László was swiftly fired from her post at the N1TV channel, which has ties to Hungary's radical nationalist Jobbik party, the Huffington Post reports. Hungary has come under fire for its handling of the refugee crisis in Europe after the government began building a razor wire fence along its border with Serbia in an attempt to keep migrants from crossing the border. 
László released a statement Thursday apologizing for kicking migrants. "I'm not a heartless, racist, children-kicking camerawoman," she wrote, the New York Daily News reports. "I do not deserve the political witch hunts against me, nor the smears or often the death threats. I'm just a woman, and now an unemployed mother of small children, who made a bad decision in a situation of panic. I am truly sorry."