Android Pay: How It Works and What You Need to Know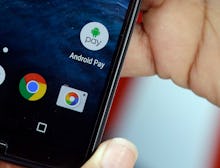 Your electronic wallet just got a little fatter. As of Thursday, Google began rolling out its second major mobile-money app called Android Pay, with its sights set on big business.  
Android Pay is Google's competitor to Apple Pay, and is available on all new Android devices running on Google's operating system, KitKat 4.4. The service syncs credit or debit card information to users' phones to pay for purchases at over a million major retail locations including Toys 'R' Us, GameStop, Panera, Walgreens, Macy's, Subway and Whole Foods. 
Only a handful of randomly chosen Android device owners are currently able to access Android Pay, as the service is not yet being introduced to the public. 
Android Pay is not yet expected to become its own app, but will instead remain a service available for new Android phones through the device's service section. Android users with updated Android Play services as of Sept. 10 will notice the new pay feature available within the current services app. By adding their credit card information into the service, users will immediately be able to use their phone in place of plastic at many chain stores and restaurants, according to TechTimes. 
Google's new service comes at a time when the mobile sphere seems to be taking over every industry, including finance. BBC estimates the mobile payment industry will be valued at $1 trillion in 2017. Google Pay is still expected to stick around for users who wish to send money to family and friends.