Newly Released Video Shows NYPD Officer Body Slamming Former Tennis Star James Blake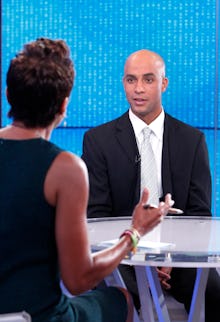 The New York Police Department released video Friday of a plain-clothed officer body-slamming and arresting former pro tennis star James Blake as he stood outside the Grad Hyatt hotel in New York Wednesday.
Officer James Frascatore jumped Blake after reportedly misidentifying him as a suspect in a case of credit card fraud. 
NYPD police commissioner William Bratton later apologized to Blake over the misidentification, and the department announced Frascatore had been placed on modified assignment. 
"I would be very interested to talk with [Blake] to extend my apologies for the incident," Bratton said Thursday. The commissioner forcefully pushed back any allegation that the incident was racially motivated. "This rush to put a race tag on it; I'm sorry, that's not involved in this incident at all," he said at a press conference, Fox News reported.  
Blake was visiting New York to meet with corporate sponsors in the run up to the United States Open. In 2006, he was ranked 4th in the world, the Associated Press reported. 
"He picked me up and body-slammed me and put me on the ground and told me to turn over and shut my mouth and put the cuffs on me," Blake told Good Morning America on Thursday. "I do think most cops are doing a great job keeping us safe, but when you police with reckless abandon, you need to be held accountable."