'Star Wars' Smuggler's Bounty: Price and How to Order 'Star Wars' Subscription Box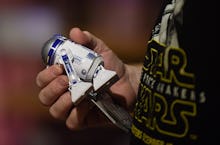 Washington-based toy maker Funko has unveiled a Star Wars-themed mystery box called Smuggler's Bounty, a subscription service that brings a galaxy far, far away right to Star Wars fans' front doors. Billed as the "only official Star Wars subscription box in the galaxy," the boxes include apparel and collectibles not available elsewhere, Funko revealed in a blog post on Thursday. 
"Each box will focus on a different part of the Star Wars universe and include memorabilia exclusive to the program," the company said. The first box is expected to launch in November and is based on the upcoming film Star Wars: Episode VII - the Force Awakens, IGN Entertainment reports. Among its contents will be two bobbleheads based on characters from the movie. 
"Mystery subscription boxes are the hot ticket in the geek realm right now," Outer Places reports. "The box will be very similar to Marvel's Collector Corps box, which, since its launch, has seen three boxes released around Avengers: Age of Ultron, Ant-Man and Secret Wars."
Smuggler's Bounty boxes cost $25 each and get delivered every other month, according to Funko. There's also an option to pay $150 for an annual membership, which includes six Smuggler's Bounty boxes, plus an additional bonus gift after one year, IGN Entertainment reports. 
The announcement comes on the heels of Force Friday, when Disney released a ton of new toys and merchandise to get Star Wars fans excited about Star Wars: Episode VII - the Force Awakens, which hits theaters in December. Among the toys unveiled at Force Friday were the BB-8 toy droid from Sphero, a tiny, ball-shaped robot that users control with their smartphones.