8 Pink Covers of Classic Songs That Are Just as Powerful as the Original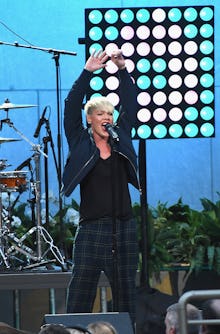 Pink had a lot of thoughts about this year's MTV Video Music Awards. The long and short of them: They were a travesty.
"I felt sad because music is supposed to inspire. It saved my life," the pop punk icon wrote in an Instagram post she's since deleted. "This trash won't save any kids life. In a world that is even scarier and with lives still worth saving, who will stand up and have soul?"
In making the bold statement, Pink answered her own question. Few people seem better suited to bring back the soul back to pop than Pink.
Pink has remained one of the music's most outspoken, challenging and versatile performers for over 15 years. The main reason she's managed to remain part of the cultural conversation for as long as she has is her range as a performer. Nothing demonstrates her raw talent and general good taste than the covers she's sang over the years. Her live performances strip away the overwrought post-production that can make any performer sound like a star, leaving fans with Pink's dynamic voice and soulful presence at the mic. 
1. Kris Kristofferson's "Me and Bobby McGee"
Kristofferson may have written the song, but in popular culture the song belongs to Janis Joplin. In some ways, Pink can be seen as a modern Joplin. Both were huge stars and undeniable leaders of their genres; both choose to sing about challenging topics such as addiction and depression; both gave the impression they didn't give a fuck about what people thought of them. The latter has been Pink's mantra almost the entire time she's been a celebrity. Pink captures all the song's bluesy snarl in a way that would make Joplin proud.
2. Led Zeppelin's "Babe I'm Gonna Leave You"
Pink has always had more of rock 'n' roll edge to her music than any other pop star. It's rarely felt forced. It's simply her infusing the day's pop with her own personality. The way she can make the choruses of "Babe I'm Gonna Leave You" feel riotous — all while sitting on a stool — is proof of her powers.
3. George Gershwin's "Summertime" (jazz standard)
While attending a performance of Sleep No More, an interactive horror theater experience in New York City, Pink became an impromptu part of the performance. She took the stage at the performance's Manderley Bar and sang "Summertime," a song popularized by the great Ella Fitzgerald. Her impromptu stirring performance is further proof Pink can kill a song anytime, anywhere. 
4. Alicia Keys' "Girl on Fire"
Alecia took on Alicia when Pink (birth name Alecia Beth Hart) covered Keys' "Girl on Fire" on a BBC Live Lounge broadcast in 2012. The accuracy with which she nails Keys' lifts during the chorus is pretty astounding. It might actually be stronger than the original.
5. Lori Lieberman's "Killing Me Softly"
"Killing Me Softly" has been reimagined countless times throughout its over 40-year history. One of the most popular versions came out of Lauryn Hill's rendition with the Fugees. Pink veers closest to that version in her 2008 cover, beautifully capturing all the song's stripped-down elegance.
6. Green Day's "Basket Case"
In the above clip from a 2010 festival appearance, Pink playfully snatches the mic from her guitarist singing the Who's "My Generation" to sing a song more fitting for her own generation — Green Day's "Basket Case." Hearing Pink sing the slacker anthem is a brilliant mix of pop punk nostalgias. The two acts dominated middle school playlists in the early 2000s and are still bringing audiences to their feet today.
7. Divinyls' "I Touch Myself"
For her cover of the Divinyls' "I Touch Myself," Pink slowed the song to a languorous crawl. It's the kind of tempo where even slightest mistake could completely derail the song's easy flow. Yet Pink pulls it off flawlessly. The slow, dripping pace helps the song even more heart-wrenchingly sensual. 
8. Queen's "Bohemian Rhapsody"
Queen's "Bohemian Rhapsody" is the greatest singalong of all time. That doesn't guarantee it's always a hit, of course. Anyone who can come close to imbuing the song with as much life as the great Freddie Mercury once did deserves to be celebrated. Pink does. She nails all the dramatic vocal leaps in the song's climax, dressing her voice with the hard rock edge the riff calls for. All the catharsis that ending is supposed to inspire comes across beautifully, as should be expected. Pink's performances always inspire.