Selena Gomez Just Revealed the Empowering Reason She's Nude on Her New Album Cover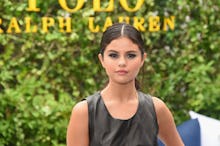 Musician Selena Gomez recently released the cover photo of her new album Revival, featuring the actress-singer sitting cross-legged while topless and wearing shorts.
It's pretty tame by album standards. But according to her, it's a confident response to the "really hurtful" level of body-shaming criticism she received over the past year following some minor weight gain.
"At the end of the day, this is not going to be a subject once the album comes out. The music is going to take over because that's how confident I am about it," she told Power 106 Los Angeles' The Cruz Show on Friday.
"You have to understand that I dealt with a lot of body shaming this year and I've never experienced that before because I don't care about that stuff, but I did start gaining weight, and I didn't really mind it," Gomez said. "I enjoyed it. I didn't mind it."
"But man, it hurt. That was really hurtful." she continued. "Because I've experienced people who have tried to control that kind of stuff before, and I think that I didn't care."
"This is my time."
"I want to do it the way I want to do it. It looks like a Linda Ronstadt photo," Gomez added. "It's a '70s photo. I'm wearing high-waisted shorts — they are obviously cut off. It's beautiful. I'm proud of that."
Gomez posed topless on the cover of V magazine earlier this year, where she discussed the anxiety that comes with living life in the public eye and dealing with harassment by paparazzi. 
Watch the interview below: