We Asked 15 People What the Ideal Fashion Show Would Look Like — Here Are Their Answers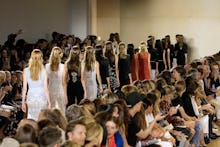 If a fashion show reflected what people wanted, what would it look like?
Models are often seen sauntering down runways in seven-inch heels, wearing completely sheer clothing with wild makeup and even jewels splattered across their faces. For women outside of the fashion industry, stepping outside looking like that isn't even a consideration (and might even get you arrested). So what would a fashion show look like if it spoke to regular, non-fashion people? 
There was no better testing ground to find out than the Givenchy show on Friday night, which was opened up to over 800 non-fashion insiders who won tickets online. So Mic took to the streets outside Givenchy and asked the lucky showgoers, many of whom were students: What would your dream fashion show look like? 
Their answers highlighted values such as the importance of diversity and wanting a show to make room for personal style — oh, and including a very important celebrity in the front row.
A fashion show should be interactive and defy stuffy expectations.
"I would love something really kind of spontaneous. I think something interactive, where people could go and have fun ... like going to a skate park or something. My dream would also be that there wouldn't be a million people there." — Danielle, 22
"I'm about minimalism, so I'd like to see a show in something like a contemporary art museum. Really clean. Marble. Models on podiums where they can move around." — Kendall, 25
"At this time, I always love shows that are surprises. Having a fashion show in the street or the supermarket that's not just a happening, but a really big artistic show." — Stephanie, 37
A show should honor diversity, in every sense of the word.
"I'd like to see diversity because ... there is a little bit more [recently], but not really. I want different body types doing high fashion, because there are plus-size models but it's not as high fashion. It's labels you don't know nearly as much about, so it'd be nice to see different body types in Givenchy or Isabel Marant."  — Simone, 29
"It would have to be something really diverse with realistic body types and stuff that's fashion forward that you can wear regularly. The Yeezus Adidas show I thought was really awesome." — Juliet, 21
"There is always room for diversity. I love a fusion of styles. I just recently went to my first Indian wedding so of course I wore a sari. Then I was looking at India Fashion Week, and the way they were able to really interpret the Western values of fashion into their own culture and make these beautiful saris was amazing." — Linh, 23
"I love it when a collection is inspired by cultures and when they actually take inspiration from patterns from certain cultures and honor them." — Joyce, 18
It's all about outfits that are relatable.
"A lot of the higher fashion shows, we just can't afford, so I'd want a show that every girl could look up to and say 'I can wear that.'" — Michelle, 23
"I'd want outfits that we can all relate to and see ourselves wearing." — Meher, 24
"As stereotypical as it sounds, I hope to see looks that will really resonate with me and inspire me to change the way I dress. My style is constantly changing and I'm always down to try something new and out there." — Katherine, 19
"I like very minimal. I don't like it to be too over the top. I just like it to be about the clothes. I like bare-faced girls who aren't too overdone." — Ellie, 27
The clothes should be as exciting and complicated as we are.
"For themes, I would like a mix of what it looked like in the '60s because it was very diverse in how people dressed, from A-line skirts to how it was transitioning in the '70s. I think that would be a cool mix to see how those two blend together." — Grace, 19
"I have, like, two sides to me — one side of me is really fun and high energy, like a house song that every loves with just confetti and a bunch of colors. Then I have this really dark side where I just like black and gold and dark colors and badass-type shit... It depends on what mood I'm in that day." — Nicole, 29
"Most definitely if I could go back in the past I would want something like Galliano for Dior. I would definitely do Galliano for Margiela and Tom Ford for Gucci. If I could go back in the past, I would be there. They were avant-garde and gothic, which I love." — Mohamed, 21
And for some, it's all about a special guest.
"Beyoncé would be in the front row, which is where she always deserves to be." — Hannah, 26
We couldn't have said it better ourselves.