23 Photos of the Massive Pro-Migrant Rallies Sweeping Europe Today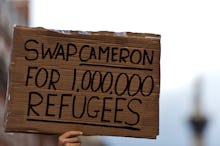 Thousands of protesters took to the streets of major European cities on Saturday to rally for their governments to accept more of the refugees fleeing wars in Syria, Iraq and Afghanistan to continental Europe for safety. 
According to the Guardian, one of the biggest rallies was the "Solidarity With Refugees" event in London, which urged participants to "Reject the Politics of Fear." It drew thousands of protesters. Additional demonstrations were reported in Madrid, Berlin, Copenhagen, Warsaw and Athens, among others.
The protests come amid growing tensions over what to do with the hundreds of thousands of migrants attempting to enter Europe, with conservative parties across the continent largely opposed to admitting large numbers of refugees. While German Chancellor Angela Merkel has recently committed to admitting as many as 500,000 migrants a year, other European leaders have not been quite as forthcoming.
Hungary has ejected thousands of refugees from its borders after keeping some of them in police holding facilities. Hungarian Prime Minister Viktor Orban, head of the conservative party Fidesz, recently told his fellow Europeans they were living in a "dream world" and pushed instead for greater aid to refugees overseas. UK Prime Minister David Cameron, who has pushed for harsher immigration laws on non-European migrants, has committed to accepting around 20,000 refugees.
Here are some shots of the protests around Europe today:
London, England
Madrid, Spain
Berlin, Germany
Athens, Greece
Warsaw, Poland
Some protests took a different tune, as thousands of right-wing protesters took to the streets chanting anti-Islamic slogans and demanding the refugees be kept out.