The UK's Biggest Liberal Party Just Voted for the British Bernie Sanders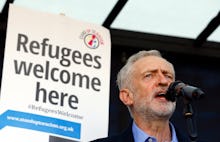 Far-left British Labour Party politician Jeremy Corbyn has won a stunning victory in the UK, becoming the new leader of his party in a landslide election which saw the candidate win just short of 60% of the vote.
The Guardian reports that the 66-year-old Corbyn, an unapologetic veteran socialist, received approximately 59.5% of the more than 400,000 votes cast — "beating rivals Andy Burnham, who trailed on 19%, and Yvette Cooper who received 17%."
The 'Blairite' candidate Liz Kendall, whose political philosophy comes closest to that of former centrist P.M. Tony Blair, scored just 4.5%.
According to the BBC, just three months ago Corbyn was considered a long-shot candidate with 200-1 odds against his victory. Now, he's delivered a resounding blow to the centrist wing of the UK's biggest progressive political party.
Corbyn ran on a platform denouncing income inequality, which he said had reached "grotesque" levels under the leadership of current Tory Prime Minister David Cameron. He also fought for increased taxation of the rich and wealthy corporations, ending austerity measures and dramatically increasing the number of refugees the UK will admit. After his victory was announced, AFP reports he sung the socialist anthem "The Red Flag" at a local pub.
Corbyn's victory will pull Labour, one of the UK's two biggest parties, much to the left in coming years, something other party leaders fear will diminish the party's overall electability. Some have taken to saying Corbyn has destroyed the party's chances of winning any future elections.
He has drawn extensive comparisons to Bernie Sanders, the Independent U.S. senator from Vermont whose continued rise in the polls is threatening centrist factions of the Democratic Party. Corbyn, however, is much more left-wing than even Sanders, advocating re-nationalization of energy and rail companies.
British people are "fed up with the injustice and the inequality ... The media and many of us, simply didn't understand the views of young people in our country. They were turned off by the way politics was being conducted. We have to and must change that. The fightback gathers speed and gathers pace," Corbyn told The Guardian.