Carly Fiorina Slams Donald Trump for Calling Her Too Unattractive to Be President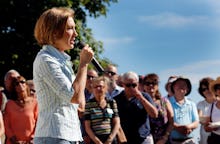 The Republican Party's only female candidate for president is hitting back hard at current front-runner and billionaire real estate mogul Donald Trump.
Former Hewlett-Packard CEO Carly Fiorina took the time this weekend to slam Trump for sexist comments he made about her appearance, specifically a recent jab in which Trump mocked Fiorina by saying "Look at that face!" Would anyone vote for that? Can you imagine that, the face of our next president."
"I think Donald Trump is an entertainer. And I think I am a leader," Fiorina told reporters at the Strafford County BBQ & Beer Bash in Dover, New Hampshire, MSNBC reports. "What I do is talk to the American people about the issues that I care about and I think they hear what I'm talking about."
Fiorina said she is not asking Trump to apologize because "there's a long line of people asking him to apologize."
"We need a president who understands what leadership is," she added. "Leadership is not about how big your position or your title is, it's not about how big your office is, it's not about how big your airplane, your helicopter, or your ego is. Leadership is about service."
During a speech on Friday at the National Federation of Republican Women, Fiorina responded directly to Trump's comments without mentioning his name: "Ladies, look at this face. This is the face of a 61-year-old woman. I am proud of every year and every wrinkle."
"And look at all of your faces. The face of leadership [...] in our party, the party of women's suffrage."
Fiorina has risen from the position of an outsider with virtually no name recognition to polling around 10% in end-of-August polling, buoyed by a strong performance in early August at a Republican debate for low-polling candidates. Thanks to adjusted rules, she will appear at the next round of Republican debates being held on Sept. 16 in Simi Valley, California, where she will have the opportunity to engage with Trump directly in front of an audience projected to be in the millions.