We're All Dressing Like Rachel Green from 'Friends,' and It's Awesome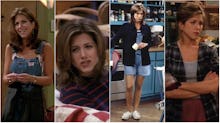 If you had any doubt that '90s clothes are experiencing a resurgence, do the math: As Vogue's Sarah Mower argues, today's young hot designers, who are on average 25 years old, were deeply influenced by the decade they lived through as kids. That doesn't just apply to the runway, it applies to what we're drawn to as well.
The clearest sign? The icon plenty of women are channeling, consciously and unconsciously, is Rachel Green.  
Take a look around: Many of the outfits worn by Rachel, the hopelessly adorable waitress and fashionista played by Jennifer Aniston on Friends, are back with a vengeance. We see shades of Rachel in the overalls every cool girl wore this summer; you can hear her saying, "Hey, you" to Ross in all the cropped sweaters cropping up this year.
In fact, you can see pretty much everything Rachel ever wore on Taylor Swift, a modern-day style star who loves pulling all her favorite looks from the past, as one Tumblr so keenly pointed out.
It's not only celebs getting inspired by Rachel — it's all of us.  
Here's proof we're living through a Rachel Green revival (with actual stuff you can buy too).
Overalls have replaced boyfriend and skinny jeans as our denim of choice.
Take, for example, denim overalls, which Rachel sported often in the first few seasons of Friends. That was in the early '90s; Friends debuted in — get this — 1994. This summer, overalls were back as if no time had passed, spotted as frequently on celebrities like Alessandra Ambrosio and Alexa Chung as on, well, pretty much every trendy 20-something you know. They're still available for fall from the likes of Rag & Bone, a brand that also happens to be peddling '90s-style slip dresses these days. (Anyone else hear Hootie playing in the background?)
We've gone full-on basic with striped tops.
Stripes rarely go wholly out of style. But their crisp yet utterly nondescript quality has made striped shirts especially appealing recently, as we embrace that basic, normcore life. Swift was recently spotted wearing one (as she is over and over and over again), and you can bet they'll be lining store shelves this fall. As Rachel demonstrated, they also look great with overalls.
We're doing cropped everything, all day, every day.
Pretty much everything Rachel wore was cropped, from denim vests to babydoll tees to long-sleeve sweaters. And it's a trend that's been back for some time (see any well-known style blogger) and doesn't seem to be budging. They are big among high-end designers as they fill the shelves at Zara and Forever 21 (which lists them by several different categories). Try one in black with some high-waisted black pants and you can flash all the way back to a time when Ross was still sexy and mysterious — vintage, right?
Turtlenecks are actually back. Yes, really.
Rachel wore turtlenecks more often than we might have realized, given how stylish she always seemed. But she always made the hard-to-pull-off style so damn good, whether worn as a sweater or while romping around in a fountain. Now, everyone from Banana Republic to Prabal Gurung used the vintage neckline in their collections, as did J. Crew (see above). Right in time for fall — if you can figure out how to pull it off.
White sneakers are back and better than ever.
Rachel was the group's fashion enthusiast, but she was rarely in heels. Instead, she was a white sneaker devotee, just like any stylish person (man or woman) worth their Instagram account today. As New York magazine reported, "Back in the winter of 2014 white sneakers made a strong showing both on the runway and on the street-style folks," and it hasn't let up much. From European-style Supergas to high-top Vans to perfectly normcore Nikes, we're all getting in on the Rachel action with white kicks.
We'll never let go of our plaid shirts.
As a Rachel normcore staple, plaid popped up in skirt and shirt form often. Whether she tied a sleeveless one into a knotted, cropped style or left an extra button open on a blouse, Rachel made plaid straight-up sexy. Plaid's by no means new these days, but it's one trend still going strong, from the hips of Kendrick Lamar to sexy fashion ads the Fall 2015 advert above for Paige denim.
Mom jeans FTW.
While we stew in regret over our hip-huggers from the early 2000s, we've come full circle and re-embraced the high-waisted, all-you-can-eat "mom jeans" that Rachel made look so cool. If Kendall Jenner's wearing them these days, you know they're trendy.