New Poll Shows Bernie Sanders Leading Hillary Clinton by 22% in New Hampshire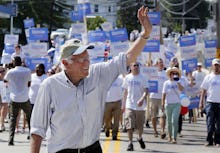 It's looking good for Bernie Sanders in the Granite State.
A new YouGov/CBS News poll shows the independent senator from Vermont is now the first choice of 52% New Hampshire voters, increasing his lead over former Secretary of State Hillary Clinton to more than 20 percentage points.
Clinton trails with just 30% support, a major slump from just three weeks ago when she was trailing Sanders by 7% in a Public Policy Polling poll, which found the two candidates neck-and-neck at 42%-35%. Now Clinton is in clear second place in New Hampshire — and the new poll indicates she's performing poorly in Iowa as well.
Sanders now leads Clinton 43%-33% in Iowa, the same primary state where Clinton's last presidential campaign collapsed against then-Sen. Barack Obama in 2008. Just a few days ago, another Quinnipiac University poll measured Sanders with just a 41%-40% lead. 
However, Clinton still maintains an ironclad lead in South Carolina, where she is beating Sanders by 23%. Vice President Joe Biden, whose candidacy has been rumored for months, also polled strongly in South Carolina.
What it means: The major reversal in voter preferences suggests Sanders may have broken into a clear lead in both Iowa and New Hampshire that is still building momentum. The two states are important early primary contests that serve as crucial challenges for candidates looking to prove their credibility to Democrats in other states.
But it's far too premature to say the Clinton campaign is imploding. Former Obama campaign adviser David Axelrod took to Twitter to say Clinton has more than enough time to regain her earlier lead if she develops a clearer campaign message and can shake off growing cynicism about her candidacy.  
Still, it's becoming increasingly apparent that a Clinton victory in the Democratic primaries is not inevitable, and the race is looking more open than it has for months. Clinton has a serious Sanders problem on her hands. While the deck may still be stacked in her favor, the five months until the New Hampshire primary on Feb. 9 probably look a lot more uncertain than Team Clinton was bargaining for.