This Amazing Bra Will Solve Your Boob Sweat Problem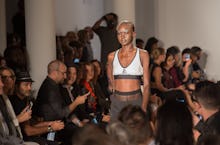 Designer Chromat and technology company Intel have teamed up to create what could be the bra of the future. 
During Chromat's Friday show at New York Fashion Week, model Alex Wek walked down the runway in a low-cut white sports bra that, unlike any bra you've ever owned, can sense changes in the temperature, breathing and perspiration of its wearer. With Intel technology packed in, the bra automatically opens and closes tiny vents in the band to prevent excessive sweating.
According to Refinery29, the Chromat Aeros sports bra is trimmed with "tiny blue lights and uses an Intel-designed module, Curie, which picks up on sweat-detecting sensors and makes minuscule vents in the bra's band open." The piece is made of Lycra, mesh, neoprene and 3-D printed frames. The revolutionary bra even knows when to turn off the vents as things cool down. 
Innovation in bra-making has been on the uptick. 3-D printers are being used to construct more support for larger cup sizes and better bras in general. Chromat and Intel's technology, on the other hand, is being used to fix an omnipresent problem. 
"I expect clothing to do work," Becca McCharen, the designer behind Chromat and this magical bra, told New York magazine. "It should respond to the body."
McCharen, who has a background in architectural design, has been known to outfit powerhouse pop stars such as Beyoncé, FKA Twigs and Madonna, who could all easily be seen wearing this item of clothing onstage. It's flattering, smart and even a little bit sexy — perfect for exercising or dancing for two and a half hours straight, à la Queen Bey.
Chromat's tagline, "structural elements for the human body," extended even further during its show with the inclusion of two big-name plus-size models, Sabina Karlsson and Denise Bidot, who both walked the runway in athleisure pieces that were equal parts functional and attractive. 
The bra wasn't the only piece of smart technology at Chromat's show on Friday. There was also a showstopping neoprene black dress with a full set of architectural, hourglass carbon-fiber wings that sprout when the garment senses that the wearer is experiencing an adrenaline rush. 
"In action movies, when men feel stressed, they Hulk up and appear very strong, but women don't have that option," McCharen told the New York Times. "They never get to show their strength in a physical way."
Those of us already in desperate need of this new bra will remain on the edge of our seats, as the garment isn't yet available for purchase. Its production is pending until the Federal Communications Commission approves the Intel technology. Until then, we'll be waiting with bated breath.