Miss America's CEO Apologized on Live TV for Slut-Shaming Vanessa Williams 31 Years Ago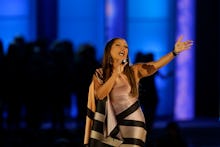 The Miss America pageant — an event focused on beauty and stereotypical femininity — isn't known for its feminist principles, but on Sunday the organization's CEO demonstrated it may at least be trying to turn a new leaf by apologizing to one famously ill-treated winner, singer and actress Vanessa Williams.
Williams, who was crowned the first black Miss America in 1983, was forced to resign 10 months later, when nude photos she had taken two years prior were published in Penthouse magazine against her will. Though the incident was a clear violation of her autonomy and right to privacy, Williams was personally shamed and, as CNN reports, was pressured by the pageant to resign from her title.
On Sunday, however, Williams took the Miss America stage once again — this time as a judge — and allowed the organization to set the record straight as to who should truly feel ashamed for their behavior. 
"You have lived your life in grace and dignity and never was it more evident than during the events of 1984 when you resigned," CEO Sam Haskell said to Williams on stage. "Though none of us currently in the organization were involved then, on behalf of today's organization, I want to apologize to you and to your mother, Ms. Helen Williams. I want to apologize for anything that was said or done that made you feel any less than the Miss America you are and the Miss America you always will be." 
Penthouse then, porn now: This apology, while certainly meaningful for Williams herself, serves as a much needed public example for addressing revenge porn — or "a form of sexual abuse that involves the distribution of nude/sexually explicit photos and/or videos of an individual without their consent," as the organization End Revenge Porn defines it. Though Williams's case may be an early example of very public form of revenge porn, it's currently a relatively frequent occurrence — 1 in 10 former partners have threatened to post "risqué" photos of their ex on the Internet, and 60% follow through with this threat, according to one study End Revenge Porn cites — and one for which far too many victims are made to feel at fault.
By treating the shame that surrounded Williams' nude photos as unacceptable, therefore, Haskell does much to frame the incident as a crime waged against her rather than an incident for which she should take any responsibility — the same mentality activists fighting for better laws and online policies surrounding revenge porn advocate. Hopefully, this public interaction will contribute to the growing movement to end the shame that surrounds this phenomenon as well as the crime itself.
h/t Gawker