This Model With Down Syndrome Walked in a Fashion Show and It Was Beautiful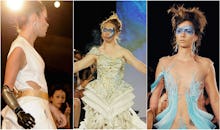 This is Madeline Stuart, an 18-year-old model from Australia:
On Sunday night, Stuart opened the show for the Hendrik Vermeulen Spring 2016 couture show, walking in with two male models in head-to-toe blue and silver body paint. Every time Stuart walked down the runway, the audience clapped and cheered her on.
The Hendrik Vermeulen Spring 2016 collection was inspired by the sea, and Stuart's face was partly painted to match the theme. 
"There's different types of beauty, and it doesn't matter from which side you look, you're always going to find something beautiful," Vermeulen told CBS. Stuart has been making headlines in the past year and become an advocate for people with Down syndrome. 
At the close of the show, the designers behind the label appeared hand-in-hand with Stuart before a cheering crowd. Stuart wore a black shirt with the words "I am NYFW [New York Fashion Week]" on the back. Behind the trio, the diverse set of models in the show, representing a variety of hair types and skin tones, also wore the shirt.
Trending up: The Vermeulen show was one of several to buck model conventions. FTL Moda, a group that serves as a platform for designers presenting their runway shows, partnered with the Christopher and Dana Reeve Foundation and Global Disability Inclusion to diversify the runway. During the last fashion season, FTL Moda's shows included models with physical disabilities and featured models with prothetic limbs or in wheelchairs. 
This season also featured Rebekah Marine, who calls herself the "bionic model," since she's an ambassador for Touch Bionics and Lucky Fin Project. She was born without a right arm but is proud of the impact she's having, she told ABC.
"It gives what I'm doing more of an edge, so I think it's pretty cool," she said in the interview. "A lot of kids think I'm like a superhero now."
The show also featured Shaholly Ayers: 
When Ayers appeared on the runway for the Alenxandra Frida collection, she stood and stared straight ahead before swiftly removing the prosthetic arm. The night was an emotional experience that almost brought Ayers to tears.
"What an amazing night! I almost cried while wearing this gorgeous design by Hendrik Vermeulen at #nyfw FTL MODA," she wrote on her Facebook page. 
Leslie Peoples also made an appearance: 
Peoples suffered a spinal chord injury two years ago, according to CBS. She "walked" down the runway in her wheelchair, paused for the cameras and gave a smoldering stare before turning around and making her way back. 
"Clearly, I'm not as tall as the other girls, but that just makes me special," Peoples told CBS. "I am the role model of so many other girls who have disabilities to let them know you can be whoever you want to be, paralyzed or not."
Including models with disabilities in a handful of fashion shows is undoubtedly an important step for the industry and a sign of the changing culture. What's most promising is that this is the second time FTL Moda has included models with disabilities in their shows.
If the applause was any indication, the audience is in full support.