This Billboard Will Greet Kim Davis on Her First Day Back at Work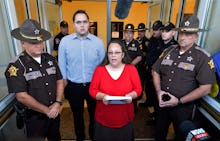 When Rowan County clerk Kim Davis returns to work Monday morning, all eyes will be on her. But her eyes may be looking up.
Davis spent the better part of last week in jail for contempt of court when multiple videos surfaced of her refusing to issue marriage licenses to same-sex couples. After a few days of rock star treatment from Republican presidential hopefuls, she returned to her office Monday morning in Morehead, Kentucky. A new billboard erected nearby was meant to greet Davis on her first day back on the job. The billboard reads: 
"Dear Kim Davis,  
The fact you can't sell your daughter for three goats and a cow means we've already redefined marriage." 
Kansas-based LGBT rights group Planting Peace commissioned the billboard "to expose this narrow interpretation by Davis and others that they use to defend their discrimination against the LGBTQ community," according to a statement on their website. "There are LGBTQ youth across the world who are taking their lives at an alarming rate because of these messages from society that make them feel broken or less than. We have to meet hate with love, intolerance with compassion."
The billboard is the latest in a line of humorous responses from Planting Peace to anti-LGBTQ groups. In 2013, the group built Equality House, a rainbow-themed, anti-bullying resource center in Topeka, Kansas, across the street from the Westboro Baptist Church headquarters. 
In front of Equality House in June of this year, Planting Peace staged a wedding between fantasy characters Dumbledore and Gandalf after J.K. Rowling tweeted a meme in support for the union between the pair. The ceremony raised money for LGBTQ homeless youth, MTV reported at the time.  
Some Morehead residents are not thrilled with Planting Peace's billboard. "It's really hurtful," Cierra Hensley, a Morehead State student, told WSAZ. "If I saw myself on a billboard, I would be very hurt."
Davis has not commented on the billboard or its message since her return to work.
Surrounded by Rowan County Sheriff's deputies and accompanied by her son Nathan, Davis clarified she will neither authorize licenses nor stop her deputies from doing so in a statement made on the steps of her office Monday morning, NPR reports. Licenses issued by her office will not bear her signature, her title or her authorization, Davis said. 
"I am here before you this morning with a seemingly impossible choice, which I do not wish on any of my fellow Americans," she said. "My conscience or my freedom."
Davis said she regretted that her deputy clerks have been caught in the middle of this situation and urged the governor's office to intervene and allow licenses to be issued under the authority of the state. 
While those camped out in front of her office wait to see what she will do next, many are simply waiting for her to come out of her office.