Latest 2016 Presidential Poll Results: Trump and Carson Pulling Away From GOP Field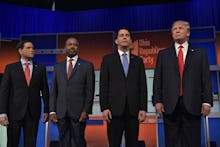 With months until the first Republican Party primary, two candidates in the large field continue to stick out in recent polls, and neither of them have ever held political office. 
Real estate tycoon Donald Trump and neurosurgeon Ben Carson continue to surge in the polls, while the rest of the GOP flock are seeing major dips in support, according to the latest presidential poll released Monday. The ABC News/Washington Post poll indicates Trump holds 33% of support among Republican voters and GOP-leaning independents, while Carson takes 20%. 
The third highest polling candidate in the Republican primaries is former Florida Gov. Jeb Bush with just 8% of support. In past polls, Bush had been the pack's frontrunner, with 22% majority support back in June. 
Until recently, Carson wasn't the center of Trump's political attacks, which some say has helped him rise in the polls since the first Republican debate Aug. 6. Now, the tides are changing as Carson becomes a clear threat to the Trump lead that has continued to climb since the business mogul's campaign announcement June 16.
During a campaign event Sunday afternoon in Iowa, Trump criticized Carson for what he calls a lack of leadership: "He's not a dealer, he's not a negotiator, we need to bring wealth back into our country. Ben can't do that .. I don't think Ben has the energy, Ben is a nice man, but when you're negotiating against China, we need people that are really smart, that have tremendous deal-making skills and that have great, great energy."
Carson has gone on the offensive side with Trump in recent weeks as well, questioning his religious faith: "By humility and the fear of the Lord are riches and honor and life and that's a very big part of who I am. I don't get that impression with him ... Maybe I'm wrong, but I don't get that."
As Trump and Carson go head to head in the latest polls, and the rest of the GOP field vies for the attention of Republican voters, the national prime-time debates will prove to be major battle grounds where anything can happen.
The CNN Republican Primary debate is Wednesday at the Reagan Library in Simi Valley, California.