Watch a White Donald Trump Supporter Tear Down a Latino Protester's Sign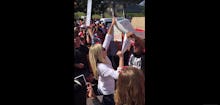 At the University of Iowa vs. Iowa State University football game in Ames, Iowa, on Saturday, which featured an appearance by Republican presidential front-runner Donald Trump, one white Trump supporter tore down a Latino protester's sign.
A video originally upload to Twitter by Samuel Van Oort captured the moment the pro-Trump attendee decided to rip apart the demonstrator's sign, which read, "Our lives begin to end the day we become silent about the things that matter."
The woman who ripped the sign denounced demonstrators as an "embarrassment" to the university as she read one of the slogans saying "a vote for Trump is a vote for white supremacy."
As she ripped apart the "silent" sign, some in the crowd cheered.
Roughly 20 students were a part of the protest, the Ames Tribune reports, holding signs reading "students against bigotry" and "no human being is illegal," with the main target of the demonstration being Trump. "That type of language shouldn't be allowed," graduate student Maria Alcivar told the paper. "Someone has to stand up and say something. We condemn his behavior."
The incident comes as Trump surges in the polls, especially in Iowa, an important primary state. His success continues despite a track record of mean-spirited comments about Latinos, women and his fellow Republicans (whom he calls "losers"). He has reacted with nonchalance to some of his more fervent fans' deeds, in one case telling the press his supporters are "very passionate" after hearing two of them beat a homeless Hispanic man.
They are indeed quite dedicated. The New York Times reports Trump received a rock star-style reception at the tailgate, which three other Republican candidates, including Wisconsin Gov. Scott Walker, also attended. None of them attracted anywhere near as much fanfare as Trump, whom Quinnipiac University polling reports has majority support among all Republican age groups.
According to SB Nation's Kevin Trahan, who tailgated with the Trump supporters, many in the crowd were extremely inebriated. "There was a small, vocal group of protestors, led mostly by students against Trump," Trahan wrote. "The ever-drunker crowd mocked them more and more." Trump eventually showed, but according to Trahan, he stayed for just a few moments before disappearing back into a waiting SUV.
As Trump's momentum continues, establishment Republican politicians like Walker and former Florida Gov. Jeb Bush have suffered in the polls. Neurosurgeon Ben Carson is now in second place at 20% to Trump's 33% among Republicans and Republican-leaning independents.
Watch the video below: