Kamilah Brock Spent 8 Days in a New York Mental Health Facility Because She Owned a BMW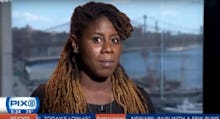 Kamilah Brock, a former New York banker, has filled a suit against the city after she was detained for eight days in a mental health facility against her will. Brock says she was committed after trying to pick up her BMW, which skeptical police did not believe she owned, after it had been impounded when she was arrested the previous day.
"Then [emergency medical services] approached me. And they said we're gonna take you to your car. And I'm like, in an ambulance?" Brock told PIX11. "I'm going to my car in an ambulance? I was just so confused."
The story began when Brock was stopped at a traffic light in New York's Harlem neighborhood on Sept. 12, 2014. Officers of the New York Police Department questioned Brock, who is black, about why she had her hands off the steering wheel. Brock, waiting at the light, replied she was "dancing." According to Brock, the officers promptly detained her in New York's local 30th police precinct.
She was ultimately released several hours later without charges and told to pick up her car the next day from another location. When she did, officers on the scene refused to believe that she was the rightful owner of the 2003 BMW 325CI. "I just felt like from the moment I said I owned a BMW, I was looked at as a liar," she told  PIX11.
Before she knew it, she was on her way to Harlem Hospital Center's psychiatric ward, where she was injected with lithium and numerous powerful sedatives against her will.
In an interview with PIX11, she recalled her experience: "He held on to me, and then the doctor stuck me in the arm, and then I was on a stretcher, and then I just woke up to them taking my clothes off."
This lasted eight days. 
Brock was ultimately left with a $13,000 medical bill from the hospital.
Harlem Hospital did not deny that Brock had been been committed. Her medical file, which her lawyers released to PIX 11, indicated she was suffering from bipolar disorder and that she was "manic," exhibiting "psychiatric behavior." Brock, who is now suing the city for "unspecified damages," has no prior history of mental illness. 
"I believe that had Kamilah Brock been white, I don't think that she would have been subject to the scrutiny and sarcasm and the treatment that she was subject to," Brock's attorney, Michael Lamonsoff, told Mic.  
It's not the first time NYPD officials have faced criticism for excessive and potentially racially motivated treatment of city residents. Just last week, a plainclothes officer tackled former tennis star James Blake without warning. The officer, James Frascatore, had a long history of accused violence toward minorities. The incident was captured on camera, prompting apologies by both police commissioner William Bratton and Mayor Bill de Blasio.
Lamonsoff said he hoped to settle the case and would attend a mandatory "settlement conference" to attempt to find common ground on Nov. 3. "If amicable resolution cannot be reached, that means justice for my client then a verdict must be taken," he told Mic.