Kendall Jenner Launches Website, App, Features Photos From NYFW 2015 — for a Price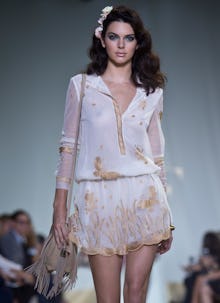 Kendall Jenner launched her own website, KendallJ.com, along with a mobile app Monday, giving her fans a front row seat at New York Fashion Week in Manhattan — for a nominal fee, that is. Users can access features on Jenner's website and app, including videos, blog posts and more, free for seven days. They'll have to pay a monthly subscription of $2.99 for additional content after that. 
The Kardashian-Jenner clan has made a fortune selling the intimate details of their lives to TV viewers. It's a business model that continues with Jenner's website and app. With a subscription, fans get a modest, curated look at Jenner's life they might not get from her social media accounts. 
Among the things Jenner fans can view on the website is a video post titled, "Clean out my closet with me!" The 19-year-old model and second youngest member of the Kardashian-Jenner family, who walked New York Fashion Week on Sunday wearing a sheer romper by designer Diane von Furstenberg, wrote, "Time to downsize! I grabbed my GoPro to show you guys how it's done."
The content push is in addition to the reality star's already ubiquitous Instagram and Twitter accounts, which boast tens of millions of social media followers each. Jenner took to Twitter on Monday to tell her 12.5 million followers of the launch of KendallJ.com. 
Jenner's mobile app and website push come nearly three months after the reality star first revealed she had a "surprise" website coming. Los Angeles-based media company Whalerock Industries, which produces mobile apps and websites for celebrities, was behind Jenner's latest media venture, Fortune reports. 
If Jenner's app and website are anywhere near as successful as that of her older sister Kim Kardashian, it could be a lucrative business for the reality star. Kardashian's eponymous app, titled Kim Kardashian: Hollywood, raked in $74 million in 2014 and is expected to make another $200 million this year, Hollywood Take reports. 
Kendall Jenner wasn't the only Jenner launching a website and app Monday. Sisters Kylie Jenner and Khloé Kardashian are expected to reveal their own websites and apps, further feeding the media frenzy that is the Kardashian-Jenner family. 
It's a business venture that isn't without risk. "The Kardashian and Jenner sisters will face the challenge of keeping up the expectations of paid subscribers and continuing to create original content to keep their fans visiting their apps and sites," Fortune reports.