A Bunch of Plus-Size Models Just Took Over Times Square — and It Was Amazing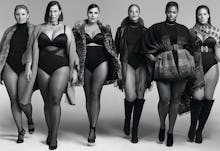 At approximately noon on Monday, hundreds of women shut down Times Square. 
Their mission: Draw attention to the extreme lack of plus-size visibility in the media, and celebrate full-figured women the world over. 
Retailer Lane Bryant's #PlusIsEqual campaign, which is responsible for this historic event, has been sharing videos and images to promote its coup over the last few days. Top plus-size models such as Marquita Pring and Ashley Graham have spoken out in favor of a more diverse runway. As of last week, they were also encouraging women to stop by Times Square on their lunch break on Monday. 
"67% of U.S. women are size 14 to 34, but they're underrepresented on billboards, magazines, TV ... everywhere," PlusIsEqual's campaign site states. "We believe all women should be seen and celebrated regularly." 
And they were seen, indeed. Lane Bryant and the lead #PlusIsEqual models — Justine Legault, Georgia Pratt, Candice Huffine, Sabina Karlsson, Precious Lee and Ashley Graham — kicked the campaign up a notch (or 12 notches, really) and effectively shut down Times Square at 46th Street and Broadway to literally stop traffic, make their presences known and host a very special and necessary show. 
The six models, who are the campaign's "it-girls," if you will, were joined in Times Square by hundreds of male and female supporters, who showed their pride in the event by carrying fans emblazoned with the #PlusIsEqual insignia (a purple equal sign with a grey plus sign faded overtop) and wearing T-shirts printed with the movement's official hashtag. 
After all six of the major campaign figures were introduced and applauded, model Ashley Graham took the stage by herself to share some encouraging words. "Never let anyone tell you, 'You can't,'" she told the crowd. 
Later on, model Candice Huffine insisted, "We can't be quiet now."
Other special guests included U.S. Olympic track and field team member Amanda Bingson, comedian Robyn Schall and "America's Got Talent" dance group Pretty Big Movement, who helped knock down the misconception that full-figured women are not physically active. 
A little celebrity action. Talk-show host Wendy Williams and "Fashion Police" host Brad Goreski also stopped by the body-positive pep rally to show their support of plus-size women in the fashion and entertainment industries. During the show, celebrity stylist Susan Moses made a point to talk about how shapeless, drab and limited clothing is for plus-size women.
"We want to marvel at the clothes on the runway, as well, and know that we can buy them in the next season in our sizes with the same integrity and the same flair as they offer in straight sizes," Moses told Mic. "A lot of times, I've had to have things custom-made or adjusted to [my clients'] needs so that the fit will be a proper fit."
"I'm excited to see such beautiful women taken out of the context of the normal 'plus' environment, placed among the pages of Vogue and Glamour magazine, looking high-fashion and strutting in those pages," she said. "I think it's wonderful."
After more than an hour of speeches and performances, the #PlusIsEqual movement revealed itself to be just as much about self-love as it is about celebrating women in media who are larger than a size 2 and fighting for equality. After all, the term "plus" is inherently positive; it's society that has turned it into a negative. 
"With being able to redefine the term ['plus'] the way that we are doing today, there's no reason not to be proud," Candice Huffine told Mic. "It's an extremely positive word. I think there's been negative connotations circling around it, because people assume plus means unhealthy, or not proud, not into fashion, not confident and wants to change their body." 
"I'm excited to move forward in an industry that's showcasing all women as equals," she said. "That goes for size and gender and age and color and everything."
So, what's next? In the hours and days following the show, fans of the movement can join the conversation by tweeting their own stories and sharing body-positive images on Instagram with the hashtag #PlusIsEqual. By using that hashtag, you are publicly supporting Lane Bryant's mission to bring more visibility to plus-size women. They needed a minimum of 500 supporters to guarantee their movement goes big, and at the time of writing, they had 221. 
Those interested in becoming a "model" for the movement can upload their photo to PlusIsEqual.com for a chance to be broadcast on a billboard high above their favorite city. Fans can also publicly endorse the movement by changing their social media profile pictures to #PlusIsEqual's insignia. 
For those lucky enough to be in Times Square, the party continued with a marching band leading supporters to Lane Bryant's 34th Street store. 
There is so much more to a woman than her size, and #PlusIsEqual is here to prove it to you. 
Mic staffer Theresa Avila contributed reporting to this story.