Bernie Sanders Just Gave a Fascinating Speech at Liberty University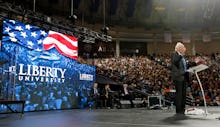 Sen. Bernie Sanders, the independent from Vermont running for the Democratic presidential nomination, stepped into the proverbial lion's den Monday and delivered one of the most interesting speeches of the campaign thus far.
Sanders made his pitch before students at Liberty University in Virginia, the Christian school founded by the late Rev. Jerry Falwell and the largest evangelical school in the world. He spoke before a crowd of thousands at the school's weekly convocation ceremony, where attendance is mandatory.
The setting was a curious choice for Sanders, whose liberal record and self-described democratic socialist views would seem at odds with the strict social conservatism espoused at Liberty. But he framed his arguments about income inequality, health care and workers' rights as in keeping with the religious traditions embraced by social conservatives. The fact that Sanders was willing to take his message to such an unconventional audience speaks to part of the reason why his campaign message is resonating so widely across the country.
The speech: Sanders was introduced by Liberty University president Jerry Falwell Jr. and received polite applause as he took to the podium. The candidate acknowledged the differences between himself and his crowd head-on, most notably on the issues of abortion and gay marriage. But he said he came to Liberty to focus on issues where there can be common ground.
"I believe in women's rights, and the right of a woman to control her own body. I believe in gay rights and gay marriage. Those are my views, and [they are] no secret," Sanders began. "But let me respectfully suggest that there are other issues out there that are of enormous consequence to our country and, in fact, to the entire world. That maybe, just maybe, we do not disagree on them. And maybe, just maybe, we can try to work together to resolve them."
Sanders, who is Jewish, framed his approach as one which draws from the traditions of the world's major religions.
"I am motivated by a vision which exists in all of the great religions — in Christianity, in Judaism, in Islam, in Buddhism and others — and which is so beautifully and clearly stated in Matthew 7:12," he said. "It states, 'So in everything, do to others what you would have them to do to you, for this sums up the Law and the prophets.' That is the Golden Rule. 'Do unto others what you would have them do to you.' That is the Golden Rule, and it is not very complicated."
Sanders then launched into his familiar pitch on income inequality and economic disparities, arguing that the United States' failure to take care of its poorest citizens is at odds with Christian principles.
"In the United States today, there is massive injustice in terms of income and wealth inequality. Injustice is rampant," he said, reiterating his core campaign message. "We live — and I hope all of you know this — in the wealthiest country in the history of the world. But most Americans don't know that, because almost all of that income and wealth is going to the top 1%."
"Put this in the context of the Bible, not me. We are living in a time where a handful of people have wealth beyond comprehension," Sanders said. "More money than they would ever know what to do with. But at that very same moment, there are millions of people in our country, let alone the rest of the world, who are struggling to feed their families."
The setting: Sanders' choice of addressing the students of Liberty University comes as his campaign is surging in the early primary states. The latest CBS News poll found he has opened up a substantial lead over Hillary Clinton in New Hampshire. But Sanders still lags in national polls, and his campaign recognizes that he will have to expand his appeal beyond his current base of supporters to compete with Clinton in later-voting states.
To that end, Sanders is embarking on a swing of southern states like Virginia, which would play an important role in the nominating process should Sanders emerge victorious in Iowa and New Hampshire. Sanders has made a point of taking his message to places where Democratic candidates don't typically compete as a means of emphasizing what his campaign sees as his broad appeal. In recent months, he has spoken before huge crowds in Louisiana, Texas and Arizona.
Sanders' speech at Liberty is another example of his ability to reframe his core message to suit the audience he's courting. He has shown this throughout his political career, and most recently in his response to the Black Lives Matter movement. By appealing to the sensibilities of the Christian conservative crowd at Liberty as a way of introducing his ideas on income inequality, Sanders proves yet again why he's a force to be reckoned with in the Democratic primary.
Watch Sanders' full speech below: