Drake Future Mixtape 2015: Drake Uses Instagram to Hint at Long-Awaited OVOFBG Mixtape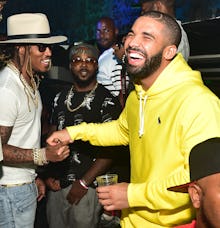 Drake isn't exactly being "eight more than 92" with his fans. 
Ever since The Breakfast Club radio show host Angela Yee accidentally unveiled that Drizzy might be working with Future on an upcoming project, both rappers have neither confirmed nor denied the rumors. However, Drake has certainly been adding fuel to the fire, uploading a series of pictures on Instagram alluding to his studio collaboration with his fellow artist.
Drake posted the above picture with Future along with the caption "Ovo on the street for the readys." The "Know Yourself" rapper then posted a second photo of himself holding a microphone toward the camera, captioning the post: "You requested it so we rewound..."
If the rumors are true, this would be the first joint release from the two artists, although Drake and Future have produced a number of hits together. Most recently, Future dropped "Where Ya At" featuring Drizzy the night before releasing his highly anticipated album DS2. The accompanying music video has over 10 million views on YouTube. 
Since Yee's blunder on The Breakfast Club, rumors surrounding the upcoming release include everything from new artwork to a possible track list and even an album name being called Put It All in a Plastic Bag. If an album is dropping shortly, it would be the second released this year from each of the rappers.