California Wildfires Pictures 2015: Record Drought Fuels 12 Major Fires Across State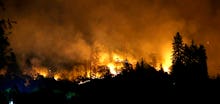 Wildfires raged on in northern California on Monday, adding to the battle as firefighters have struggled to contain several large blazes burning in the region. The fires, the most recent of which erupted over the weekend, scorched hundreds of homes and tens of thousands of acres of dried-out landscape and left one person dead, the Associated Press reports.
The summer fires were the state's worst in 30 years and come as California battles a record drought that has left parched land vulnerable to fire outbreaks, Mark Ghilarducci, director of the Governor's Office of Emergency Services, told the Associated Press. "The bushes, the trees have absolutely no moisture in them, and the humidities are so low that we are seeing these 'fire starts' just erupt into conflagrations," Ghilarducci said.
On Monday, at least 12 large fires burned across the state, state fire agency Cal Fire reports. One of the largest fires, located in Amador and Calaveras counties about 70 miles east of Sacramento, spread to more than 70,000 acres Monday. Cal Fire spokesman Daniel Berlant tweeted Monday that "good progress [was] made overnight" in controlling the fire and that the blaze was about 30% contained. 
"This is how the conditions are in California right now," Lynne Tolmachoff of Cal Fire told CNN. At least 400 homes have been lost to the fire in Amador and Calaveras, the Associated Press reports.
California firefighters have battled nearly 6,800 wildfires covering 545,000 acres since January, the New York Times reports. State agency Cal Fire has handled was about 1,500 more than in an average year.
The latest round of fires has left four firefighters injured.
Residents affected by the fires said they feared for what could be ahead. "There's a sense of disbelief," Gary Kraus, a Calistoga, California, city councilman and former fire chief, told the New York Times. "It will be an absolute miracle if we don't start hearing about fatalities up there. You get heart attacks, accidents in cars, because this fire came through so quick." California officials confirmed at least one person had died in a fire near Napa Valley, according to the Associated Press.