Mac Miller New Album 2015: Streaming Options and Track Listing for GO:OD AM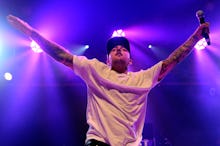 Mac Miller is making big moves. Ever since signing to Warner Bros. music label, the "Donald Trump" rapper, who achieved success in the music industry through Internet stardom, has been hard at work on his first studio album under a major label. NPR unveiled it's exclusive first listen for Miller's new album GO:OD AM on Monday morning, available via streaming through NPR Music Radio. 
GO:OD AM is Miller's latest release since his self-produced Faces mixtape came out in 2014, and it's already proving to be one of the rapper's biggest projects to date. The album is expected to be released on iTunes Friday and features collaborations with some of the biggest names in hip hop and Internet culture — including Lil B, Chief Keef and Little Dragon. 
GO:OD AM AM has 17 songs, all available for listening through NPR's first listen stream. Below is the track list:
1) "Doors"
Miller's latest album is the rapper's first attempt to break away from the widely successful mixtapes he's released that have all gone fairly viral on the web. The rapper signed to Warner Bros. music label last year in October, telling FADER:
It's just time to take the next step. ...Doing it on an independent level and taking it as far as we did was really amazing ... but it just makes sense for where I'm at right now and where I can possibly go. I would like to see what it's like to have those resources and have that reach. I don't want to solely exist on the Internet. Not that I do, but there's a whole world out there of things to do that's not Twitter, that's not Instagram, to sell the record and get the record out.
GO:OD AM will be released Sept. 18, just two days before the artist begins three months of touring beginning in his hometown of Pittsburgh, Pennsylvania. All tickets purchased online come with a copy of the artist's latest album. For information on tour tickets and to pre-order GO:OD AM, check out Miller's official website.